Short genome report
Open Access
Draft genome sequence of Halomonas lutea strain YIM 91125T (DSM 23508T) isolated from the alkaline Lake Ebinur in Northwest China
Standards in Genomic Sciences
2015
10:1
Received: 28 July 2014
Accepted: 6 November 2014
Published: 20 January 2015
Abstract
Species of the genus Halomonas are halophilic and their flexible adaption to changes of salinity and temperature brings considerable potential biotechnology applications, such as degradation of organic pollutants and enzyme production. The type strain Halomonas lutea YIM 91125T was isolated from a hypersaline lake in China. The genome of strain YIM 91125T becomes the twelfth species sequenced in Halomonas, and the thirteenth species sequenced in Halomonadaceae. We described the features of H. lutea YIM 91125T, together with the high quality draft genome sequence and annotation of its type strain. The 4,533,090 bp long genome of strain YIM 91125T with its 4,284 protein-coding and 84 RNA genes is a part of Genomic Encyclopedia of Type Strains, Phase I: the one thousand microbial genomes (KMG-I) project. From the viewpoint of comparative genomics, H. lutea has a larger genome size and more specific genes, which indicated acquisition of function bringing better adaption to its environment. DDH analysis demonstrated that H. lutea is a distinctive species, and halophilic features and nitrogen metabolism related genes were discovered in its genome.
Keywords
Halomonas lutea AerobicGram-negativeChemoorganotrophicModerately halophilicLake Ebinur
Introduction
Strain YIM 91125T (= DSM 23508T = KCTC 12847T = CCTCC AB 206093T) is the type strain of Halomonas lutea[1]. Currently, there are 83 validly named species in the genus Halomonas on the basis of most recent released from LPSN [2] and EzTaxon-e [3]. Halomonadaceae comprises the largest number of halophilic and halotolerant bacteria described to date, and Halomonas is the largest genus in this family. However, most of the taxa in Halomonadaceae have been reclassified in the past due to their heterogeneous features [4–7]. In Halomonas, a small group of species has been formally re-located to Chromohalobacter, Cobetia and Kushneria by further taxonomic studies. Members of the genus Halomonas were usually isolated from saline environments [8–12]. Strain YIM 91125T was originally isolated from soil sample of Ebinur Lake, which has been a long-term target for the studies of element cycling and microbial biota under extremely high-saline conditions in Xinjiang, Northwest China. As a type strain, it's the original isolate used in species description, which exhibits the relevant phenotypic and genotypic properties cited in the original published taxonomic circumscriptions [13]. This organism grows well across a wide range of salinity and temperature and also participates in nitrogen reduction. In this context, strain YIM 91125T has been sequenced as a halophilic representative, and becomes a part of Genomic Encylopedia of Type Strains, Phase I: the one thousand microbial genomes project.
Here, we present a summary classification and a set of features for H. lutea strain YIM 91125T, together with the description of the genomic sequencing and annotation, and provide brief findings of its genome sequence as compared to genomes of other Halomonas species. The genomic data will provide insights into its new biotechnological applications, such as sewage treatment. The comprehensive genomes of this genus will facilitate our understanding of the ecological roles that Halomonas species play in those hypersaline habitats and their relationships with other halophilic and nonhalophilic microorganisms.
Classification and features
H. lutea
YIM 91125
T
is a Gram-negative-staining, motile, aerobic and moderately halophilic bacterium, which can reduce nitrate (Table
1
). Cells of the strain are short rods, 0.4 to 0.7 μm in diameter and 0.6 to 1.0 μm in length (Figure
1
). They are motile by means of single polar flagellum and their colonies are orange, flat, opaque and mucoid with slightly irregular edges (Figure
1
). The predominant respiratory quinone found in
H. lutea
YIM 91125
T
is Q-9, similar to other members of the genus
Halomonas
. The predominant fatty acids are C
18:1
ω
7
c
(25.1%), C
16:0
(17.0%), C
19:0
cyclo
ω
8
c
(13.6%), C
12:0
3-OH (10.7%), C
12:0
(7.9%), C
10:0
(6.0%) and C
17:0
cyclo (4.6%) [
1
]. The profile of major fatty acids in strain YIM 91125
T
is also similar to other members of the genus
Halomonas
[
14
–
17
].
Table 1
Classification and general features of H. lutea YIM 91125 T [18]
MIGS ID

Property

Term

Evidence code a

Classification

Domain Bacteria

TAS [19]

Phylum Proteobacteria

TAS [20]

Class Gammaproteobacteria

Order Oceanospirillales

Family Halomonadaceae

TAS [4]

Genus Halomonas

TAS [24]

Species Halomonas lutea

TAS [1]

Type strain YIM 91125T

TAS [1]

Gram stain

negative

TAS [1]

Cell shape

short rods

TAS [1]

Motility

motile

TAS [1]

Sporulation

non-sporulating

TAS [1]

Temperature range

4-45°C

TAS [1]

Optimum temperature

37°C

TAS [1]

pH range; Optimum

5.0-9.0

TAS [1]

Carbon source

mono- and polysaccarides

TAS [1]

MIGS-6

Habitat

aquatic, fresh water, lake, salinewater

TAS [1]

MIGS-6.3

Salinity

1-20% NaCl (w/v)

TAS [1]

MIGS-22

Oxygen requirement

aerobe

TAS [1]

MIGS-15

Biotic relationship

free living

TAS [1]

MIGS-14

Pathogenicity

none

NAS

MIGS-4

Geographic location

Ebinur Lake (China)

TAS [1]

MIGS-5

Sample collection

2008 or before

NAS

MIGS-4.1

Latitude

45.05

TAS [1]

MIGS-4.2

Longitude

82.977

TAS [1]

MIGS-4.4

Altitude

not reported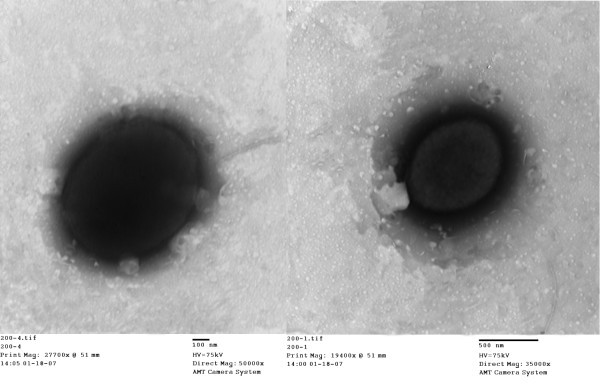 16S rRNA gene sequence of strain YIM 91125T was compared with the newly released database from the Greengenes [26], using NCBI BLAST [27, 28] under default settings (e.g., considering only HSPs from the best 250 hits) and the relative frequencies of taxa were determined, weighted by BLAST scores. The most frequently occurring genera were Halomonas (71.4%), Chromohalobacter (17.8%), Bacillus (3.6%), Haererehalobacter (3.6%) and Modicisalibacter (3.6%) (228 hits in total). Regarding 186 hits to sequences from members of the genus Halomonas, the average identity within HSPs was 95.5%, whereas the average coverage by HSPs was 98.3%. Among all other species, the one yielding the highest score was Halomonas xinjiangensis, which corresponded to identity of 99.9% and HSP coverage of 98.0%. (Note that the Greengenes database uses the INSDC (=EMBL/NCBI/DDBJ) annotation, which is not an authoritative source for nomenclature or classification.) The highest scoring environmental sequences were EF157249 and EF157230 (Greengenes short name 'tar pits clone 101–11 k' and 'tar pits clone 101–120 k'), which showed identity of 96.3% and an HSP coverage of 99.6%. The most frequently occurring keywords within the labels of all environmental samples which yielded hits were soil like 'soil', 'seafloor', 'drilling deep-earth'; water like 'groundwater', 'aquatic', 'lake', 'marine'; oil and plant. Environmental samples yielded hits of a higher score than the highest scoring species were not found.
Phylogenetic analyses were carried out with two different algorithms, i.e., neighbor-joining (NJ) and maximum-likelihood (ML). The phylogenetic tree was shown in Figure
2
and Additional file
1
: Figure S1, which provides an interesting insight into the nomenclature and classification of members of the genus
Halomonas
, and also indicates the phylogenetic neighborhood of
H. lutea
. The phylogenetic relationships indicate that
H. lutea
YIM 91125
T
is most closely to
H. xianhensis
A-1
T
with 99% similarity and the sequence of the sole 16S rRNA gene in the genome differs by 10 nucleotides from the previously published 16S rRNA sequence (EF674852).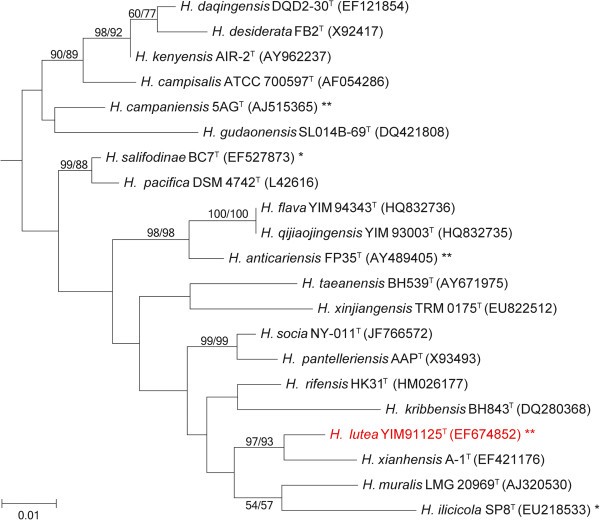 Genome sequencing and annotation
Conclusions
The genome sequence and annotation of H. lutea YIM 91125T were presented. The genome comprises 42 scaffolds which together represent the organism of approximately 4.53 Mb. It encodes for key genes and pathways involved in the compatible solutes production and nitrogen degradation. This provides clues to discover novel genes and functions, and leads to an improved understanding of halophilic microbial evolution and function in the extremely salty conditions. YIM 91125T participates in nitrogen cycling, although the process of reducing nitrogen needs further studies to fully understand the related pathways. The genome sequencing of H. lutea marks an important step toward a comprehensive genomic catalog and the metabolic diversity of halophilic bacteria. It may contribute to further studies on important process for Halomonas, such as quorum-sensing regulatory and osmoadaption. Combining with genomes of other members in Halomonas, will make an important advance in understanding of the ecological roles that Halomonas species play in those hypersaline environments and their relationships with other halophilic and nonhalophilic microorganisms.
Abbreviations
DDH:

DNA-DNA hybridization
HSP:

High-scoring segment pair.
Declarations
Acknowledgements
Susanne Schneider is gratefully acknowledged the assistance for growing H. lutea cultures. We also thank Evelyne-Marie Brambilla for DNA extraction and quality control (both at the DSMZ). This work was performed under the auspices of the US Department of Energy's Office of Science, Biological and Environmental Research Program, and by the University of California, Lawrence Berkeley National Laboratory under Contract No. DE-AC02-05CH11231, Lawrence Livermore National Laboratory under Contract No. DE-AC52-07NA27344. A. L. was supported in part by Russian Ministry of Science Mega-grant no. 11.G34.31.0068 (Dr. Stephen J O'Brien Principal Investigator). W.-J. Li was supported by 'Hundred Talents Program' of the Chinese Academy of Sciences.
Authors' Affiliations
(1)
Key Laboratory of Biogeography and Bioresource in Arid Land, Xinjiang Institute of Ecology and Geography, Chinese Academy of Sciences, Urumqi, China
(2)
Key Laboratory of Microbial Diversity in Southwest China, Ministry of Education and the Laboratory for Conservation and Utilization of Bio-Resources, Yunnan Institute of Microbiology, Yunnan University, Kunming, China
(3)
Theodosius Dobzhansky Center for Genome Bionformatics, St. Petersburg State University, St. Petersburg, Russia
(4)
Algorithmic Biology Lab, St. Petersburg Academic University, St. Petersburg, Russia
(5)
DOE Joint Genome Institute, Walnut Creek, USA
(6)
Biological Data Management and Technology Center, Lawrence Berkeley National Laboratory, Berkeley, USA
(7)
Leibniz-Institute DSMZ - German Collection of Microorganisms and Cell Cultures, Braunschweig, Germany
(8)
Department of Biological Sciences, King Abdulaziz University, Jeddah, Saudi Arabia
(9)
The First Hospital of Qujing City, Qujing Affiliated Hospital of Kunming Medical University, Qujing, China
(10)
State Key Laboratory Breeding Base for Zhejiang Sustainable Plant Pest Control, Institute of Quality and Standard for Agro-products, Zhejiang Academy of Agricultural Sciences, Hangzhou, China
(11)
University of Chinese Academy of Sciences, Beijing, China
(12)
School of Biology, Newcastle University, Newcastle upon Tyne, UK
Copyright
© Gao et al.; licensee BioMed Central. 2015
This article is published under license to BioMed Central Ltd. This is an Open Access article distributed under the terms of the Creative Commons Attribution License (http://creativecommons.org/licenses/by/4.0), which permits unrestricted use, distribution, and reproduction in any medium, provided the original work is properly credited. The Creative Commons Public Domain Dedication waiver (http://creativecommons.org/publicdomain/zero/1.0/) applies to the data made available in this article, unless otherwise stated.