Short genome report
Open Access
Complete genome sequence of endophytic nitrogen-fixing Klebsiella variicola strain DX120E
Standards in Genomic Sciences
2015
10:22
Received: 14 January 2015
Accepted: 10 April 2015
Published: 8 May 2015
Abstract
Klebsiella variicola strain DX120E (=CGMCC 1.14935) is an endophytic nitrogen-fixing bacterium isolated from sugarcane crops grown in Guangxi, China and promotes sugarcane growth. Here we summarize the features of the strain DX120E and describe its complete genome sequence. The genome contains one circular chromosome and two plasmids, and contains 5,718,434 nucleotides with 57.1% GC content, 5,172 protein-coding genes, 25 rRNA genes, 87 tRNA genes, 7 ncRNA genes, 25 pseudo genes, and 2 CRISPR repeats.
Keywords
Endophyte Klebsiella variicola Klebsiella pneumoniae Nitrogen fixationPathogenicityPlant growth-promoting bacteriaSugarcane
Introduction
The species Klebsiella variicola was classified in 2004 and consisted of clinical and plant-associated isolates [1].The species K. singaporensis was classified in 2004 based on a single soil isolate [2] and was recently identified as a later junior heterotypic synonym of K. variicola [3]. K. variicola is able to fix N2 [1]. K. variicola strain At-22, one of the dominant bacteria in the fungus gardens of leaf-cutter ants, provides nitrogen source by N2 fixation [4] and carbon source by degrading leaf polymers to the ant-fungus symbiotic system [5]. Former K. pneumoniae strain 342 (Kp342), which is phylogenomically close to strain At-22 [6,7] and has been identified as a strain of K. variicola [3], is able to colonize in plants and to provide small but critical amounts of fixed nitrogen to plant hosts [8].
K. variicola strain DX120E was isolated from roots of sugarcane grown in Guangxi, the major sugarcane production area in China [9]. It is able to colonize in sugarcane roots and shoots, to fix N2 in association with sugarcane plants, and to promote sugarcane growth [10], and thus shows a potential as a biofertilizer. Here we present a summary of the features of the K. variicola strain DX120E (=CGMCC 1.14935) and its complete genome sequence, and thus provide a genetic background to understand its endophytic lifestyle, plant growth-promoting potentials, and similarities and differences to other plant-associated and clinical K. variicola isolates.
Organism information
Classification and general features
K. variicola
strain DX120E is a Gram-negative, non-spore-forming, non-motile rod (Figure
1
). It grows aerobically but reduces N
2
to NH
3
at a low pO
2
. It is able to grow and fix N
2
on media containing 10% (w/v) cane sugar or sucrose. It forms circular, convex, smooth colonies with entire margins on the solid high-sugar content media. It grows best around 30°C and pH 7 (Table
1
).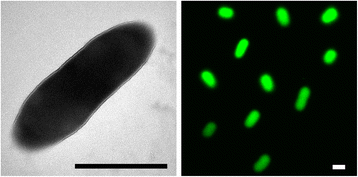 Phylogenetic analysis of the 16S rRNA gene sequences from strain DX120E and strain Kp342, the type strains of the species in the genera
Klebsiella
and
Raoultella
, and the type strain of the type species of the type genus of the family
Enterobacteriaceae
(
Escherichia coli
ATCC11775
T
) showed that
K. variicola
strains (type strain F2R9, Kp342, DX120E and LX3) were most closely related and formed a monophyletic group with
K. pneumoniae
and
K. quasipneumoniae
(Figure
2
).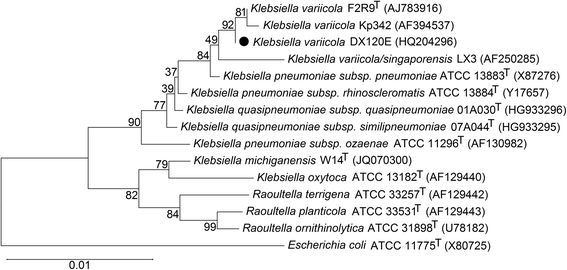 Like typical members in the genera Klebsiella , K. variicola DX120E utilizes alanine, arabinose, D-arabitol, L-aspartate, D-cellobiose, citrate, D-fructose, L-fucose, D-galactose, gentiobiose, glucose, glycerol, myo-inositol, lactate, lactose, malate, maltose, D-mannitol, D-mannose, D-melibiose, L-proline, D-raffinose, L-rhamnose, L-serine, D-sorbitol, sucrose, and D-trehalose [23]. DX120E does not utilize adonitol (also known as ribitol), which is a distinctive characteristic from K. pneumoniae [1].
Genome sequencing information
Conclusions
The complete genome sequence of K. variicola DX120E provides the genetic background for understanding the bacterial mechanisms to adapt endophytic life and to promote plant growth. The high degree of whole-genome and plasmid similarities between DX120E and phytopathogenic and clinical Klebsiella isolates suggests the risk of using DX120E as a biofertilizer. The available genome sequences of the K. variicola strains allow an in-depth comparative analysis to understand the subtle pathogenicity mechanisms of the pathogens and to predict pathogenic risks for the plant-beneficial strain DX120E.
Declarations
Acknowledgements
This work was supported by the National Natural Science Foundation of China (31171504 and 31240056), Guangxi Provincial Natural Science Foundation of China (2011GXNSFF018002 and 2013GXNSFBA019061), Science and Technology Development Foundation of Guangxi Academy of Agricultural Sciences (2013JZ11), Guangxi Special Funds for Bagui Scholars and Distinguished Experts (2013).
Authors' Affiliations
(1)
Key Laboratory of Sugarcane Biotechnology and Genetic Improvement (Guangxi), Ministry of Agriculture; Guangxi Key Laboratory of Sugarcane Genetic Improvement; Sugarcane Research Institute, Guangxi Academy of Academy of Agricultural Sciences; Sugarcane Research Center, Chinese Academy of Agricultural Sciences, Nanning, China
(2)
State Key Laboratory for Conservation and Utilization of Subtropical Agro-bioresources, Guangxi University, Nanning, China
(3)
State Key Laboratory of Rice Biology, Institute of Biotechnology, Zhejiang University, Hangzhou, China
(4)
Microbiology Research Institute, Guangxi Academy of Academy of Agricultural Sciences, Nanning, China
Copyright
© Lin et al.; licensee BioMed Central. 2015
This is an Open Access article distributed under the terms of the Creative Commons Attribution License (http://creativecommons.org/licenses/by/4.0), which permits unrestricted use, distribution, and reproduction in any medium, provided the original work is properly credited. The Creative Commons Public Domain Dedication waiver (http://creativecommons.org/publicdomain/zero/1.0/) applies to the data made available in this article, unless otherwise stated.