Genome report
Open Access
Complete genome sequence of the chromate-reducing bacterium Thermoanaerobacter thermohydrosulfuricus strain BSB-33
Standards in Genomic Sciences
2015
10:74
Received: 3 July 2014
Accepted: 29 May 2015
Published: 5 October 2015
Abstract
Thermoanaerobacter thermohydrosulfuricus BSB-33 is a thermophilic gram positive obligate anaerobe isolated from a hot spring in West Bengal, India. Unlike other T. thermohydrosulfuricus strains, BSB-33 is able to anaerobically reduce Fe(III) and Cr(VI) optimally at 60 °C. BSB-33 is the first Cr(VI) reducing T. thermohydrosulfuricus genome sequenced and of particular interest for bioremediation of environmental chromium contaminations. Here we discuss features of T. thermohydrosulfuricus BSB-33 and the unique genetic elements that may account for the peculiar metal reducing properties of this organism. The T. thermohydrosulfuricus BSB-33 genome comprises 2597606 bp encoding 2581 protein genes, 12 rRNA, 193 pseudogenes and has a G + C content of 34.20 %. Putative chromate reductases were identified by comparative analyses with other Thermoanaerobacter and chromate-reducing bacteria.
Keywords
Thermoanaerobacter ThermophilicAnaerobicGram-positiveChromateChromiumReducingMetalBioremediation
Introduction
Thermoanaerobacter thermohydrosulfuricus strain BSB-33 (ATCCBAA-2171 = DSM 25103) is a Gram-positive anaerobic rod-shaped thermophilic bacterium isolated from sediment samples collected at a shallow hot spring in Bakreshwar India in the state of West Bengal [1]. The hot spring sediment was found to be basic (pH 9.2 +/− 0.1) with a temperature range of 66–70 °C supporting a diverse microbial community including Gammaproteobacteria, Cyanobacteria, green nonsulfur and low-GC Gram-positive bacteria [2]. Strain BSB-33 was found to reduce both Cr(VI) and Fe(III) anaerobically at 60 °C while utilizing peptone or pyruvate [1]. In contrast, Thermoanaerobacter thermohydrosulfuricus strain DSM 567T isolated from sugar beet extraction juice, and strain WC1-12 isolated from wood compost are not reported to reduce metals but reduce sulfite and thiosulfate to H2S while fermenting a wide range of carbohydrates [3, 4]. The Fe(III) and Cr(VI) reducing trait of BSB-33 has not been reported for the closely related species Thermoanaerobacter wiegelii strain Rt8.B1 isolated in New Zealand [5] while Thermoanaerobacter siderophilus SR4 isolated from hydrothermal vents in Kamchatka peninsula is capable of reducing Fe(III) only [6]. The related species Thermoanaerobacter ethanolicus JW200 and Thermoanaerobacter pseudethanolicus 39E isolated from Yellowstone National Park [7, 8] also reduce iron but not chromium [9]. Thermoanaerobacter species reported to anaerobically reduce Fe(III) and Cr(VI) (sp X514, sp X513, sp X561) were all collected from the geologically and hydrologically isolated deep subsurface environments in the Piceance Basin in Colorado [10]. Notably however, 16S rRNA and chaperonin-60 universal target (cpn60 UT) region sequence comparison reveals that the chromate-reducing Thermoanaerobacter species (BSB-33, and sp X513-14) are only distantly related. Thus the mechanism(s) of chromium reduction in these two species is likely quite divergent.
Owing to its strong oxidizing nature, soluble Cr(VI) can be toxic, mutagenic, and carcinogenic in various biological systems. Reduction of hexavalent chromium produces the water-insoluble and less mobile Cr(III), which has diminished toxicity due to decreased bioavailability [11]. Chromium (VI) is widely used in many industrial applications and improper disposal of waste has contaminated soil, vadose zones, and groundwater at sites throughout the industrialized world. High levels of Cr(VI) contaminated ground water from leather industries has been reported in South Australia and India [12, 13] and at chromium chemical production sites in Corvalis, Oregon, and Tamil Nadu in India [14, 15]. In addition, the U.S. Department of Energy uranium production and enrichment facilities operating during World War II resulted in high levels of chromium contamination in the groundwater at some U.S. sites [16–18]. Microbe-mediated reduction of soluble Cr(VI) in groundwater into insoluble forms to reduce contamination has been a research pursuit for decades and has been implemented in the U.S. and elsewhere. Pseudomonas strains isolated from chromate containing sewage sludge were among the first microbes reported as capable of biological reduction of chromate [19, 20]. In addition, chromium reducing species like Streptomyces sp MC1 isolated from sugarcane, and specific microbial soil communities have been used to remediate Cr(VI) contaminated soils [21–23]. Thereafter, several anaerobic chromium reducing bacteria were isolated from chromium-contaminated and non-contaminated soil and ground water and identified as candidates for bioremediation [24]. Despite many advances, there remains much foundational knowledge to gain about the mechanism of bacterial resistance to chromate that will improve our fundamental understanding of microbial metal reduction and improve microbial bioremediation strategies.
Our analyses here reveal that the distinctive chromium-reducing capabilities of BSB-33 appear divergent from other members of this species and may be particularly well-suited for bioremediation of chromium contamination. Here we present a summary classification and a set of features for Thermoanaerobacter thermohydrosulfuricus BSB-33 together with the description of the completed genome sequence and annotation. We use this genome sequence for comparative analyses with other chromium reducing bacteria both in and outside of the genus Thermoanaerobacter . We report novel insights into the divergent mechanism(s) of chromate reduction and resistance in this highly divergent species.
Organism information
Classification and features
Strain BSB-33 has been previously described as '
Thermoanaerobacter
-like bacterium' [
1
] on the basis of BLAST [
25
] analysis of a 968 bp 16S rRNA sequence (
EU368841
) obtained using a single S-D-Bact-0027-a-S-18 primer [
26
]. Later, BSB-33 16S rRNA gene was re-sequenced by the American Type Culture Collection to generate a 1614 bp long sequence that has been deposited in GenBank (
EU368841
.2). The BSB-33 strain is deposited in the ATCC as '
Thermoanaerobacter
indiensis
BSB-33'. However, comparison of the 16S rRNA sequence using NCBI BLAST shows that BSB-33 has >99 % 16S rRNA sequence identity with
Thermoanaerobacter thermohydrosulfuricus
DSM 567,
Thermoanaerobacter thermohydrosulfuricus
WC1,
Thermoanaerobacter wiegelii
Rt8.B1,
Thermoanaerobacter pseudethanolicus
ATCC 33223, and
Thermoanaerobacter siderophilus
SR4. Thus '
Thermoanaerobacter
indiensis
BSB-33' cannot be identified as a unique species on the basis of 16S rRNA sequence. Notably however, taxonomic assignment of
Thermoanaerobacter
species using 16S rRNA sequence is known to be particularly problematic due to highly conserved intervening sequences (IVS) in 16S rRNA of
T. thermohydrosulfuricus
and
T. pseudethanolicus
[
4
]. Phylogenetic analysis for identification of
Thermoananerobacter
species based on chaperonin-60 universal target region proved more accurate than 16S rRNA sequence and a more accurate predictor of whole genome relatedness and DNA-DNA hybridization values [
27
]. Therefore, phylogenetic trees have been constructed for BSB-33 using the maximum likelihood (ML) method within MEGA v5.1 software [
28
]. We used both chaperonin-60 universal target region and 16S rDNA derived from sequenced
Thermoanaerobacter
genomes to compare the trees and
Clostridium thermocellum
was used
to root the trees (Figs.
1
and
2
). Despite apparent phenotypic divergence, BSB-33 exhibited 99.82 %, 99.64 %, 99.64 %, 98.19 % chaperonin-60 UT sequence identity with
T. thermohydrosulfuricus
WC1,
T. wiegelii
Rt8.B1,
T. siderophilus
SR4, and
T. thermohydrosulfuricus
DSM 567 respectively. The 16S rRNA sequence identity of BSB-33 with
T. thermohydrosulfuricus
WC1,
T. wiegelii
Rt8.B1,
T. siderophilus
SR4 and
T. thermohydrosulfuricus
DSM 567 is further supported by sequence identity of
cpn60
UT region; hence, it is phylogenetically closer with these species than with other
Thermoanaerobacter
species represented in these analyses. Despite significant genotypic and phenotypic diversity across
Thermoanaerobacter
sub-species, genetic homology in standard marker genes results in classification of diverse strains as a common species [
4
]. Because of this difficulty with
Thermoanaerobacter
species, and to infer whole genome relatedness, digital DNA-DNA hybridization by means of genome-to-genome distances (GGD) were calculated using the GGDC 2 software [
29
]. The BSB-33 genome (
KB910517
.1) shares 95.2 %, 84.8 % and 76 % DDH identity with
T. thermohydrosulfuricus
WC1 (
KB731262
.1 –
KB731323
.1),
T. siderophilus
SR4 (
CM001486
.1) and
T. wiegelii
Rt8.B1 (
CP002991
.1) genomes respectively. The typical cutoff for a unique species is a genome relatedness of less than 70 % [
30
]. Since BSB-33 shares the greatest sequence identity with WC1, it is therefore most likely that '
Thermoanaerobacter
indiensis
BSB-33' is a divergent subspecies of
T. thermohydrosulfuricus
and hereafter referred to as strain BSB-33.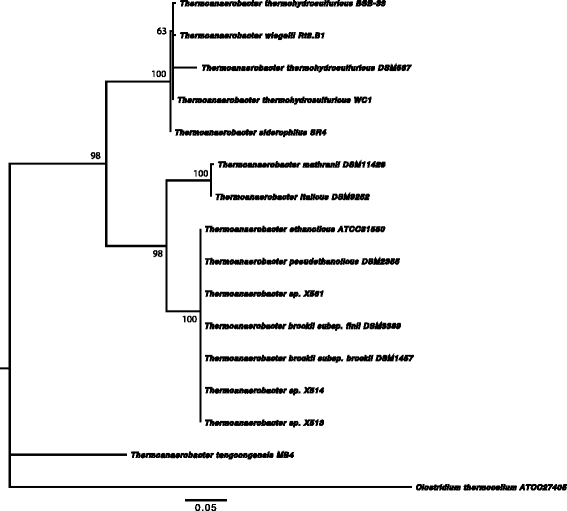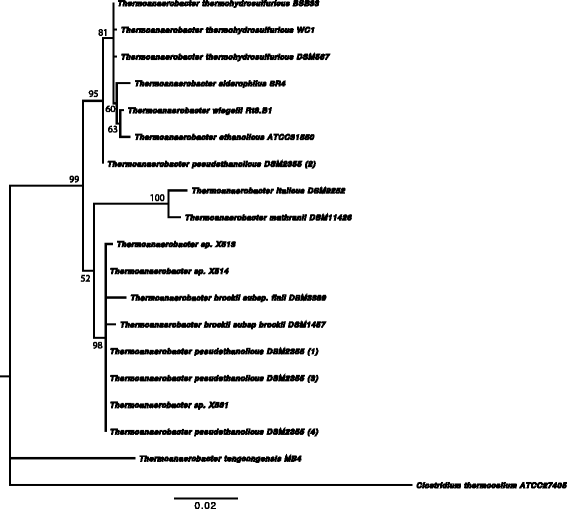 BSB-33 cells are described as straight to curved rods, approximately 0.5 μm in diameter and 2 μm in length occurring singly or in short filaments (Fig.
3
) [
1
]. Strain BSB-33 was determined to be gram-positive at all stages of growth with slight tumbling motility. Colonies were uniformly round, white, opaque and 0.5-0.8 mm in diameter when grown anaerobically for 2–3 days on 2 % agar plates (not shown). The G + C content of the DNA of strain BSB-33 was determined by the thermal denaturation to be 35.70 ± 2 mol% [
1
], and calculated to be 34.20% from the genome sequence reported here (see Table
3
).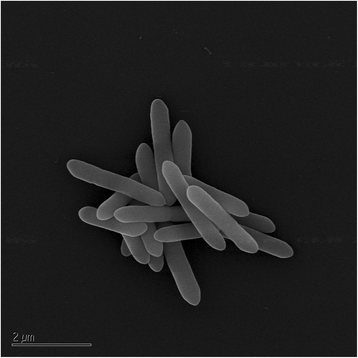 BSB-33 cells are strict anaerobes that can couple the oxidation of peptone to the reduction of Fe(III) oxyhydroxide and Fe(III)-citrate with maximal growth and iron and chromium reduction observed at 60 °C [
1
]. In basal medium BSB-33 can also couple the oxidation of peptone to the reduction of 0.2 mM K
2
CrO
4,
30 mM MnO
2
and 20 mM AQDS [
1
]. When Fe (III)-citrate is used as the electron acceptor either peptone or pyruvate (organic acid) can be utilized as a substrate (electron donor) while lactate, acetate, citrate, or 100 % hydrogen gas are not utilized [
1
]. Both the soluble and membrane subcellular fractions of BSB-33 contain anaerobic Fe(III) and Cr(VI) reduction activities at 60 °C using NADH as the electron donor [
1
]. A summary of the classification and general features of
T. thermohydrosulfuricus
BSB-33 are presented in Table
1
.
Table 1
Classification and general features of Thermoanaerobacter thermohydrosulfuricus BSB-33 according to MIGS recommendations [66]
MIGS ID

Property

Term

aEvidence code

Classification

Domain Bacteria

TAS [67]

Phylum Firmicutes

Class Clostridia

Order Thermoanaerobacterales

Family Thermoanaerobacteraceae

Genus Thermoanaerobacter

Species Thermoanaerobacter thermohydrosulfuricus

TAS [3]

Gram stain

Positive

TAS [1]

Cell shape

Rod-Shape

TAS [1]

Motility

Slight tumbling motility

TAS [1]

Sporulation

Not reported

Temperature range

Thermophile

TAS [1]

Optimum temperature

60 °C

TAS [1]

pH range; Optimum

Not reported

Carbon source

Pyruvate

TAS [1]

MIGS-6

Habitat

Hot spring, Aquatic, Marine

TAS [1]

MIGS-6.3

Salinity

Not reported

MIGS-22

Oxygen requirement

Obligately anaerobe

TAS [1]

MIGS-15

Biotic relationship

Free living

TAS [1]

MIGS-14

Pathogenicity

Non pathogenic

TAS [1]

MIGS-4

Geographic location

West Bengal, India

TAS [1]

MIGS-5

Sample collection

Not reported

MIGS-4.1

Latitude

23.52

NAS

MIGS-4.2

Longitude

87.22

NAS

MIGS-4.3

Depth

Not reported

MIGS-4.4

Altitude

84 m

NAS
Genome sequencing information
Genome properties
Detailed genome statistics are provided in Table
3
and Fig.
4
. The genome consists of one chromosome with a total length of 2,597,606 bp and a G + C content of 34.20 %. Of the 2,721 predicted genes, 2,581 are protein-coding genes, 140 encode putative RNAs, and 193 pseudogenes were identified. The majority of the protein-coding genes (79.86 %) were assigned a putative function while the remaining genes were annotated as hypothetical proteins. The distribution of genes into functional categories based on clusters of orthologous genes is presented in Table
4
.
Table 3
Genome statistics
Attribute

Genome (Total)

Value

% of totala

Genome size (bp)

2,597,606

100.00

DNA coding sequence (bp)

2,236,208

86.09

DNA G + C content (bp)

888,278

34.20

Number of replicon

1

Extrachromosomal elements

0

Total genes

2,721

100.0

RNA genes

140

5.15

rRNA genes

12

0.44

Protein coding genes

2,581

94.85

Pseudo Genes

193

7.09

Genes with function prediction

2,173

79.86

Protein coding genes with COGs

1,759

76.92

Protein coding genes with Pfam

2,244

82.47

Genes in paralog cluster

974

35.8

Protein coding genes coding signal peptides

55

2.02

Protein coding genes coding transmembrane proteins

645

23.7

Genes connected to transporter classification

319

11.72

CRISPR count

5

Table 4
Number of genes associated with general COG functional categories
| Code | Value | % of totala | Description |
| --- | --- | --- | --- |
| J | 146 | 7.58 | Translation, ribosomal structure and biogenesis |
| A | - | - | RNA processing and modification |
| K | 137 | 7.11 | Transcription |
| L | 101 | 5.24 | Replication, recombination and repair |
| B | - | - | Chromosome structure and dynamics |
| D | 36 | 1.37 | Cell cycle control, cell division, chromosome partitioning |
| Y | - | - | Nuclear structure |
| V | 33 | 1.71 | Defense mechanisms |
| T | 75 | 3.89 | Signal transduction mechanisms |
| M | 89 | 4.62 | Cell wall/membrane/envelope biogenesis |
| N | 44 | 2.28 | Cell motility |
| Z | - | - | Cytoskeleton |
| W | - | - | Extracellular structure |
| U | 37 | 1.92 | Intracellular trafficking, secretion and vesicle transport |
| O | 65 | 3.37 | Posttranslational modification, protein turnover |
| C | 115 | 5.97 | Energy production and conversion |
| G | 194 | 10.07 | Carbohydrate transport and metabolism |
| E | 182 | 9.45 | Amino acid transport and metabolism |
| F | 57 | 2.96 | Nucleotide transport and metabolism |
| H | 83 | 4.31 | Coenzyme transport and metabolism |
| I | 42 | 2.18 | Lipid transport and metabolism |
| P | 91 | 4.72 | Inorganic ion transport and metabolism |
| Q | 17 | 0.88 | Secondary metabolites biosynthesis, transport and catabolism |
| R | 206 | 10.7 | General function prediction only |
| S | 176 | 9.14 | Function unknown |
| - | 962 | 35.35 | Not in COGs |
Insights from the genome sequence
Conclusions
'T. indensis BSB-33' has been classified as T. thermohydrosulfuricus BSB-33 based on 16S and cpn60 UT region sequence identity. Within a given Thermoanaerobacter species there is a notedly broad functional diversity with only genetic microdiversity, even among isolates from a common environment [4]. Here we focus on the divergent metal reducing capabilities among members of the Thermoanaerobacter genus. Despite many years of intensive study, assimilatory and dissimilatory metal reduction processes in microbes remains incompletely understood and particularly difficult to discern from genetic sequence alone [63, 64]. We present genomic analyses between Thermoanaerobacter species to highlight the mechanisms of dissimilatory metal reduction of Cr(IV) and Fe(III) in these microbes. This comparitive genome analysis indicates several oxidoreductases in BSB-33 that are likely to be involved in chromate reduction of which nitrite reductase, dihydrolipoamide dehydrogenase and NADH: flavin oxidoreductase are top candidate genes. These enzymes being redox proteins with flavin and iron sulfur center prosthetic groups which play essential roles in electron transfer have appropriate characteristics to transfer electrons to Cr(VI) [50, 65].
The complete genome sequence of BSB-33 provides the starting point for a detailed analysis of the mechanism of chromate reduction. Novel mechanisms and uncommon dissimilatory metal reduction pathways between Thermoanaerobacter strains can be identified by further comparative genomic analysis and direct redox experimentation. Experimental characterization of these enzymes will provide valuable insight into the variance and mechanisms of chromate reduction by various Thermoanaerobacter strains.
Abbreviations
Fe(III):

Iron in the +3 oxidation state
Cr(VI):

Chromium in the +6 oxidation state
Cr(III):

Chromium in the +3 oxidation state
U(VI):

Uranium in the +6 oxidation state
rRNA:

Ribosomal ribonucleic acid
H2S:

Hydrogen sulfide
K2CrO4 :

Potassium chromate
MnO2 :

Manganese dioxide
AQDS:

9,10-anthraquinone-2,6-disulfonic acid
NADH:

Nicotinamide adenine dinucleotide
NAD(P)H:

Nicotinamide adenine dinucleotide phosphate
Declarations
Acknowledgements
We express our deep gratitude to Binayak Dutta-Roy, who has been the main inspiration behind this work. We thank Dr. Subrata Pal for his input and isolating BSB-33. Funding was provided by a Fulbright Doctoral and Professional Scholarship to P.B. (15111363) and through the ENIGMA Scientific Focus Area Program at Lawrence Berkeley National Laboratory, supported by the Office of Science, Office of Biological and Environmental Research, of the U. S. Department of Energy under Contract No. DE-AC02-05CH11231. The work conducted by the U.S. Department of Energy Joint Genome Institute was supported under Contract No. DE-AC02-05CH11231 by the Office of Science of the U.S. Department of Energy.
Open AccessThis article is distributed under the terms of the Creative Commons Attribution 4.0 International License (http://creativecommons.org/licenses/by/4.0/), which permits unrestricted use, distribution, and reproduction in any medium, provided you give appropriate credit to the original author(s) and the source, provide a link to the Creative Commons license, and indicate if changes were made. The Creative Commons Public Domain Dedication waiver (http://creativecommons.org/publicdomain/zero/1.0/) applies to the data made available in this article, unless otherwise stated.
Authors' Affiliations
(1)
Life Sciences Division, Lawrence Berkeley National Laboratory, Berkeley, USA
(2)
Bioscience Division, Los Alamos National Laboratory, Los Alamos, USA
Copyright
© Bhattacharya et al. 2015