Short genome report
Open Access
The complete genome, structural proteome, comparative genomics and phylogenetic analysis of a broad host lytic bacteriophage ϕD3 infecting pectinolytic Dickeya spp.
Standards in Genomic Sciences
2015
10:68
Received: 1 May 2015
Accepted: 17 September 2015
Published: 24 September 2015
Abstract
Plant necrotrophic Dickeya spp. are among the top ten most devastating bacterial plant pathogens able to infect a number of different plant species worldwide including economically important crops. Little is known of the lytic bacteriophages infecting Dickeya spp. A broad host lytic bacteriophage ϕD3 belonging to the family Myoviridae and order Caudovirales has been isolated in our previous study. This report provides detailed information of its annotated genome, structural proteome and phylogenetic relationships with known lytic bacteriophages infecting species of the Enterobacteriaceae family.
Keywords
Tryptone SoyaLytic BacteriophageCalla LilyStructural ProteomeMultiple Genome Alignment
Introduction
Pectinolytic Dickeya spp. can cause disease on a number of arable and ornamental crops worldwide including potato, tomato, carrot, onion, pineapple, maize, rice, hyacinth, chrysanthemum and calla lily resulting into severe economic losses [1]. Dickeya spp. are recognized to be among the top ten most important bacterial pathogens in agriculture [2]. To date there is no effective control of Dickeya spp. in agriculture due to the lack of practical measures and strategies [3].
Lytic bacteriophages have been proposed as potential biological control agents against various pathogenic bacterial species including plant pathogens [4]. Their potential to control plant bacterial diseases has been evaluated among others against Erwinia amylovora , Xanthomonas pruni, Ralstonia solanacearum and also were experimentally tested against Pectobacterium spp. and Dickeya spp. in different crop systems [4]. In the case of Pectobacterium spp. and Dickeya spp. lytic bacteriophages, only limited attempts have been made so far to isolate and characterize these bacteriophages in detail [5, 6] and to provide information on their genomes and structural proteomes [7].
At present, only two Dickeya spp. lytic bacteriophages: LimeStone1 and ϕD5 were characterized in detail, viz. their complete genomes are available in the Genbank (accessions: NC019925 and KJ716335, respectively) and information on other features (e. g. structural proteomes and host range, multiplicity of infection and adsorption to bacterial hosts) is also available [6, 7].
Virus information
Bacteriophage ϕD3 was isolated from garden soil collected in Kujawsko-Pomorskie region (Kuyavian-Pomeranian Province) in 2013 in Poland and it has been characterized in full for morphologic and phenotypic features [
5
]. It is a broad host lytic phage belonging to
Myoviridae
family and
Caudovirales
order and infecting isolates of
D. solani
,
D. dadantii
,
D. dianthicola
,
D. zeae
and
D. chrysanthemi
species. In transmission electron microscopy, this bacteriophage was characterized by the presence of a 130 nm long contractile tail, a head of 100 nm in diameter and of dodecahedral symmetry [
5
] (Fig.
1
).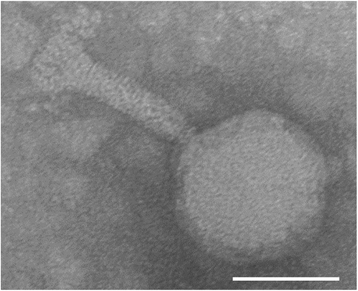 Chemotaxonomic data
To better characterize bacteriophage ϕD3, we performed in addition to the genome characterization also SDS-PAGE and MS analysis of its structural proteins [
8
]. Protein bands were excised from the gels with a sterile scalpel and used for mass spectrometry analysis performed at the Mass Spectrometry Laboratory, Institute of Biochemistry and Biophysics, Polish Academy of Sciences in Warsaw, Poland. In order to predict the molecular functions of the unknown structural proteins obtained from SDS-PAGE and MS analysis we used GeneSillico Protein Structure Prediction
Meta
-server containing known three-dimensional (3D) protein structures [
9
] and PSI-BLAST accessed
via
NCBI website [
10
]. The computational protein predictions with the highest scores were considered as the most valid [
9
,
10
]. This direct and bioinformatic approach led to the experimental identification of 10 structural proteins of ϕD3. From these, the function of 7 proteins could be assigned directly based on sequence similarities with the other known phage proteins (Fig.
2
). The most abundant protein was major capsid protein gp23. Three proteins present in the ϕD3 proteome were characterized by MS as unknown structural proteins for which no function could be inferred based on homology with amino acid sequences present in the current databases. These proteins were analyzed by comparing their sequences with protein sequences deposited in the GeneSillico protein 3D structure database. We were then able to assign functions to all unknown proteins using this approach.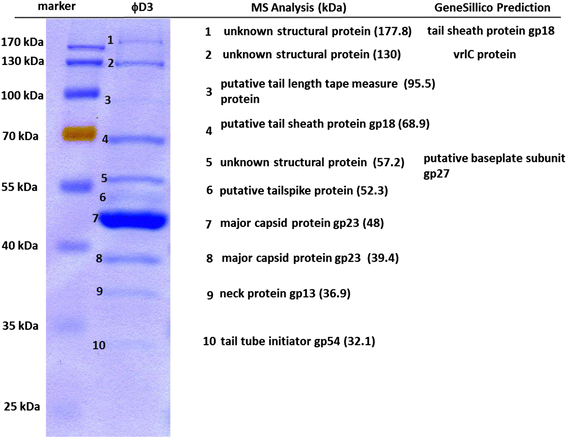 Genome sequencing information
Conclusions
As far we know, the ϕD3 is the third bacteriophage able to infect (and kill) several species of Dickeya that has been genetically characterized in depth and is also the second Dickeya spp. lytic bacteriophage isolated in Poland. We expect that the availability of an additional Dickeya spp. specific bacteriophage would improve our understanding of bacteriophage – bacteria interactions and gives an insight on conservation and evolution of Dickeya spp. lytic bacteriophages as well as improve our knowledge on Dickeya spp. ecological fitness in complex (soil, rhizosphere and phyllosphere) environments.
Declarations
Acknowledgements
This work was financially supported by the National Science Centre, Poland (Narodowe Centrum Nauki, Polska) via a postdoctoral research grant FUGA1 (DEC-2012/04/S/NZ9/00018) to Robert Czajkowski. The authors are grateful to Michel C. M. Perombelon (ex. SCRI, Dundee, Scotland) for helpful discussion and his editorial work on the manuscript.
Open AccessThis article is distributed under the terms of the Creative Commons Attribution 4.0 International License (http://creativecommons.org/licenses/by/4.0/), which permits unrestricted use, distribution, and reproduction in any medium, provided you give appropriate credit to the original author(s) and the source, provide a link to the Creative Commons license, and indicate if changes were made. The Creative Commons Public Domain Dedication waiver (http://creativecommons.org/publicdomain/zero/1.0/) applies to the data made available in this article, unless otherwise stated.
Authors' Affiliations
(1)
Department of Biotechnology, Intercollegiate Faculty of Biotechnology, University of Gdansk and Medical University of Gdansk, Gdansk, Poland
(2)
Netherlands Institute of Ecology (NIOO-KNAW), Wageningen, The Netherlands
(3)
Laboratory of Electron Microscopy, Faculty of Biology, University of Gdansk, Gdansk, Poland