Short genome report
Open Access
High-quality permanent draft genome sequence of the Lebeckia ambigua-nodulating Burkholderia sp. strain WSM4176
Standards in Genomic Sciences
2015
10:79
Received: 26 November 2014
Accepted: 8 October 2015
Published: 16 October 2015
Abstract
Burkholderia sp. strain WSM4176 is an aerobic, motile, Gram-negative, non-spore-forming rod that was isolated from an effective N2-fixing root nodule of Lebeckia ambigua collected in Nieuwoudtville, Western Cape of South Africa, in October 2007. This plant persists in infertile, acidic and deep sandy soils, and is therefore an ideal candidate for a perennial based agriculture system in Western Australia. Here we describe the features of Burkholderia sp. strain WSM4176, which represents a potential inoculant quality strain for L. ambigua, together with sequence and annotation. The 9,065,247 bp high-quality-draft genome is arranged in 13 scaffolds of 65 contigs, contains 8369 protein-coding genes and 128 RNA-only encoding genes, and is part of the GEBA-RNB project proposal (Project ID 882).
Keywords
Root-nodule bacteriaNitrogen fixationRhizobia Betaproteobacteria GEBA-RNB
Introduction
Leguminous pasture species are important in Western Australian agriculture because the soils are inherently infertile. Together with changing patterns of rainfall, this agricultural system cannot continue to rely on the current commercially used annual legumes. Deep-rooted herbaceous perennial legumes including Rhynchosia and Lebeckia species from the Cape Floristic Region in South Africa have been investigated because of their adaptation to acid and infertile soils [1–3]. These plants naturally occur in the CFR, which is one of the richest areas for plants in the world and covers 553,000 ha of land protected by the UNESCO as important world heritage. Elevations in this area range from 2077 m in the Groot Winterhoek to sea level in the De Hoop Nature Reserve. Moreover, a great part of the area is characterized by mountains, rivers, waterfalls and pools. In areas where Lebeckia ambigua is native, rainfall ranges between 150 and 400 mm annually. Parts of the CFR have thus similar soil and climate conditions to Western Australia.
In four expeditions to the Western Cape of South Africa, held between 2002 and 2007, nodules and seeds were collected and stored as previously described [4]. The isolation of bacteria from these nodules gave rise to a collection of 23 strains that were identified as Burkholderia . Unlike most of the previously studied rhizobial Burkholderia strains, this South African group appears to associate with papilionoid forage legumes, rather than Mimosa species. WSM4176 belongs to a subgroup of strains that were isolated in 2004 from Lebeckia ambigua nodules collected near Nieuwoudtville in the Western Cape of South Africa [3]. The site of collection was moderately grazed rangeland field owned by the Louw family, and the soil was composed of stony-sand with a pH of 6. Burkholderia sp. strain WSM4176 is highly effective at fixing nitrogen with Lebeckia ambigua , with which it forms crotaloid, indeterminate, nodules [3].
WSM4176 represents thus a potential inoculant quality strain for Lebeckia ambigua , which is being developed as a grazing legume adapted to infertile soils that receive 250–400 mm annual rainfall, where climate change has necessitated the domestication of agricultural species with altered characteristics. Therefore, this strain is of special interest to the IMG/GEBA project. Here we present a summary classification and a set of general features for Burkholderia sp. strain WSM4176 together with the description of the complete genome sequence and annotation.
Organism information
Classification and features
Burkholderia
sp. strain
WSM4176
is a motile, Gram-negative, non-spore-forming rod (Fig.
1
Left, Center) in the order
Burkholderiales
of the class
Betaproteobacteria
. The rod-shaped form varies in size with dimensions of 0.1–0.2 μm in width and 2.0–3.0 μm in length (Fig.
1
Left). It is fast growing, forming 0.5–1 mm diameter colonies after 24 h when grown on half Lupin Agar [
5
] and TY [
6
] at 28 °C. Colonies on ½LA are white-opaque, slightly domed, moderately mucoid with smooth margins (Fig.
1
Right).

Figure
2
shows the phylogenetic relationship of
Burkholderia
sp. strain
WSM4176
in a 16S rRNA gene sequence based tree. This strain clusters closest to
Burkholderia tuberum
STM678
T
and
Burkholderia phenoliruptrix
AC1100
T
with 99.86 and 97.28 % sequence identity, respectively. Minimum Information about the Genome Sequence is provided in Table
1
.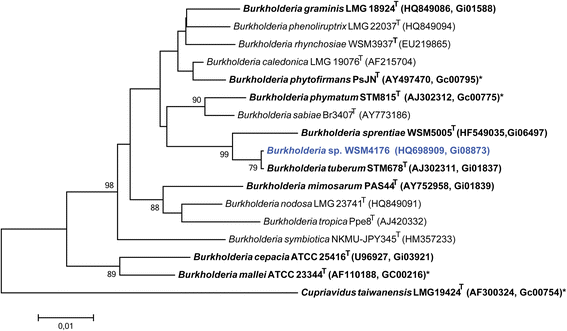 | MIGS ID | Property | Term | Evidence code |
| --- | --- | --- | --- |
| | Classification | Domain Bacteria | TAS [30] |
| | | Phylum Proteobacteria | |
| | | Class Betaproteobacteria | TAS [33] |
| | | Order Burkholderiales | TAS [34] |
| | | Family Burkholderiaceae | TAS [35] |
| | | Genus Burkholderia | TAS [36] |
| | | Species Burkholderia sp. | TAS [3] |
| | | (Type) strain WSM4176 | TAS [3] |
| | Gram stain | Negative | IDA [36] |
| | Cell shape | Rod | IDA |
| | Motility | Motile | IDA |
| | Sporulation | Non-sporulating | IDA [36] |
| | Temperature range | Not reported | |
| | Optimum temperature | 28 °C | IDA |
| | pH range; Optimum | Not reported | |
| | Carbon source | Not reported | |
| MIGS-6 | Habitat | Soil, root nodule on host | TAS [3] |
| MIGS-6.3 | Salinity | Not reported | |
| MIGS-22 | Oxygen requirement | Aerobic | IDA |
| MIGS-15 | Biotic relationship | Free living, symbiotic | TAS [3] |
| MIGS-14 | Pathogenicity | Non-pathogenic | NAS |
| MIGS-4 | Geographic location | South Africa | TAS [3] |
| MIGS-5 | Sample collection | 2007 | TAS [3] |
| MIGS-4.1 | Latitude | −31.381 | TAS [3] |
| MIGS-4.2 | Longitude | 19.30 | TAS [3] |
| MIGS-4.4 | Altitude | 789 m | IDA |
Symbiotaxonomy
Burkholderia sp. strain WSM4176 belongs to a group of Burkholderia strains that nodulate papilionoid forage legumes rather than the classical Burkholderia hosts Mimosa spp. (Mimosoideae) [7]. Burkholderia sp. strain WSM4176 was assessed for nodulation and nitrogen fixation on three separate L. ambigua genotypes (CRSLAM-37, CRSLAM-39 and CRSLAM-41) [3]. Strain WSM4176 could nodulate and fix effectively on CRSLAM-39 and CRSLAM-41 but was partially effective on CRSLAM-37 [3].
Genome sequencing information
Conclusion
Burkholderia sp. WSM4176 belongs to a group of Beta-rhizobia isolated from Lebeckia ambigua from the fynbos biome in South Africa [3]. WSM4176 is phylogeneticaly most closely related to Burkholderia tuberum STM678T. Both STM678T and WSM4176 have comparable genome sizes, 8.3–9.1 respectively. Recently, two more genomes from strains originating from Lebeckia ambigua were investigated, Burkholderia dilworthii WSM3556T and Burkholderia sprentiae WSM5005T [25]. Both of these strains have a genome size of 7.7 Mbp, which is considerably smaller than WSM4176. All four strains, STM678T, WSM3556T , WSM4176 and WSM5005T , contain a large number of genes assigned to transport and metabolism of amino acids (9.79–10.94 %) and carbohydrates (7.93–8.38 %), and transcription (9.55–9.94 %). Interestingly, STM678T was initially isolated from Aspalathus species but does not nodulate this host, however it has been shown to nodulate Cyclopia species from the same fynbos biome in South Africa as Lebeckia ambigua [26]. Considering the ability of these strains to nodulate and fix nitrogen effectively with legumes, they share in common many of the genes responsible for the nitrogenase pathway (IMG pathway number 798). The genome sequence of WSM4176 provides thus an unprecedented opportunity to study the host range and nitrogen fixation capacities of these fynbos bacteria.
Abbreviations
GEBA-RNB:

Genomic encyclopedia of bacteria and archaea – root nodule bacteria
JGI:

Joint genome institute
TY:

Trypton yeast
CTAB:

Cetyl trimethyl ammonium bromide
WSM:

Western Australian soil microbiology
BNF:

Biological nitrogen fixation
CFR:

Cape floristic region
Declarations
Acknowledgements
This work was performed under the auspices of the US Department of Energy Office of Science, Biological and Environmental Research Program, and by the University of California, Lawrence Berkeley National Laboratory under contract No. DE-AC02-05CH11231, Lawrence Livermore National Laboratory under Contract No. DE-AC52-07NA27344, and Los Alamos National Laboratory under contract No. DE-AC02-06NA25396. We gratefully acknowledge the funding received from the Murdoch University Strategic Research Fund through the Crop and Plant Research Institute (CaPRI) and the Centre for Rhizobium Studies (CRS) at Murdoch University.
Open AccessThis article is distributed under the terms of the Creative Commons Attribution 4.0 International License (http://creativecommons.org/licenses/by/4.0/), which permits unrestricted use, distribution, and reproduction in any medium, provided you give appropriate credit to the original author(s) and the source, provide a link to the Creative Commons license, and indicate if changes were made. The Creative Commons Public Domain Dedication waiver (http://creativecommons.org/publicdomain/zero/1.0/) applies to the data made available in this article, unless otherwise stated.
Authors' Affiliations
(1)
Centre for Rhizobium Studies, Murdoch University, Murdoch, Australia
(2)
DOE Joint Genome Institute, Walnut Creek, USA
(3)
Biological Data Management and Technology Center, Lawrence Berkeley National Laboratory, Berkeley, USA
(4)
Department of Biological Sciences, King Abdulaziz University, Jeddah, Saudi Arabia
(5)
Department of Agriculture and Food, Western Australia, Australia