Short genome report
Open Access
Complete genome sequences of bacteriophages P12002L and P12002S, two lytic phages that infect a marine Polaribacter strain
Standards in Genomic Sciences
2015
10:82
Received: 28 July 2015
Accepted: 12 October 2015
Published: 19 October 2015
Abstract
The bacterial genus Polaribacter is distributed widely in marine environments; however, there have been no reports of phages infecting Polaribacter strains. Here, we describe the isolation and genome sequencing of two lytic siphophages, P12002L and P12002S, that infect Polaribacter sp. strain IMCC12002. The two phages and host strain were isolated from coastal seawater of Korea. Complete genome sequences of the two phages were similar to each other and about 50 kb in length, with a G + C content of 28.9 %. The two genomes showed typical characteristics of phage genomes: a modular structure and high proportion of hypothetical proteins. The genome sequences have been deposited in GenBank under accession numbers KR136259 (P12002L) and KR136260 (P12002S).
Keywords
Bacteriophage Polaribacter Bacteroidetes Genome Siphoviridae
Introduction
Viruses are the most numerous biological entities in the marine water column. The number of virus-like particles is known to exceed that of prokaryotes by approximately 10-fold on average [1]. Recent metagenomic studies on marine viruses have added an immense amount of novel sequence data to public databases [2]. However, the functional and phylogenetic assignment of these novel viral sequences is daunting, partly due to the shortage of available reference genomes [3]. Since most viruses in marine environments are believed to be bacteriophages [4], isolation and genome-based characterization of phages infecting widespread marine bacterial groups are important for a thorough understanding of marine viral diversity.
The genus Polaribacter , affiliated with the family Flavobacteriaceae of the phylum Bacteroidetes , currently contains 14 validly published species identified from marine environments. Several studies have shown that the genus is widely distributed in marine ecosystems, including polar seas and the North Sea [5–7], indicating that the genus Polaribacter may play important ecological roles and also suggesting the importance of any Polaribacter phages.
To our knowledge, however, no phages infecting the genus Polaribacter have been reported. In fact, phages infecting the family Flavobacteriaceae , to which Polaribacter belongs, have rarely been isolated, and currently only a limited number of bacterial groups within the Flavobacteriaceae are known to have phages infecting them [8]. This situation has posed a conundrum in virome studies of marine environments, since the family Flavobacteriaceae is one of the major bacterial assemblages found in the marine water column [9, 10].
Here, we report the genome sequences of two lytic bacteriophages, P12002L and P12002S, that infect strain IMCC12002, a marine bacterium phylogenetically assigned to the genus Polaribacter . The genome sequences of phages P12002L and P12002S represent the first addition of Polaribacter phage genomes to public sequence databases.
Virus information
Classification and features
P12002L and P12002S are lytic phages that infect the bacterial strain Polaribacter sp. IMCC12002. A coastal seawater sample collected off Incheon Harbor, located on the west coast of South Korea, was serially diluted with autoclaved seawater and spread onto marine agar plates (Difco). Strain IMCC12002 was established from a colony grown on a plate after two weeks of incubation at 20 °C in the dark by three rounds of plate streaking. Phylogenetic analyses based on 16S rRNA gene sequences placed strain IMCC12002 within the genus Polaribacter of the family Flavobacteriaceae . Sequence similarities of the 16S rRNA gene between IMCC12002 and type strains of the genus Polaribacter , calculated using EzTaxon-e server [11], ranged from 95.0 % to 98.4 %, with a maximum value found for Polaribacter irgensii 23-PT [12]. Strain IMCC12002 was routinely grown in mR2A media.
Phages P12002L and P12002S were isolated from a surface seawater sample collected from the same station where the host strain IMCC12002 was isolated previously. An enrichment culture was performed to increase the concentration of phages putatively infecting strain IMCC12002 prior to plaque assay. Broth culture of IMCC12002 (20 ml) in the exponential phase was mixed with 380 ml of a 0.2-μm filtered seawater sample and 100 ml of 5× mR2A broth, and was further incubated at 20 °C for a week. During incubation, 10 ml of culture broth was withdrawn three times (at 2-day intervals) and vortexed for 5 min after the addition of 2 ml of chloroform. The chloroform was separated by centrifugation and the aqueous phase was recovered and stored at 4 °C for subsequent use in plaque assays. Plaque assays were performed using the double agar layer method. Bottom and top agar layers were prepared by the addition of Bacto Agar (BD Difco) to mR2A broth, at concentrations of 1.5 % and 0.7 % (w/v), respectively. Exponentially growing IMCC12002 (0.5 ml) and the chloroform-treated enrichment culture (0.5 ml; diluted if necessary) were added to 6 ml of molten (50 °C) top agar and poured onto bottom agar plates. After solidification of the top agar layer, plates were incubated at 20 °C for a week. Two plaques were selected from the assay plates, then were further purified through three cycles of picking, elution, dilution, and plaque assay, and were established and designated phages P12002L and P12002S. The two phages formed clear plaques on the host bacterial lawn after 1–2 days of incubation at 20 °C. The diameters of plaques were 1–2 mm for both phages, although the two phages seemed to show a difference in plaque size on the original assay plates.
Morphological and genomic characterization were performed for classification of the two phages, P12002L and P12002S, using viral particles amplified and purified as described below (see Genome sequencing information). For morphological characterization, purified phage particles were adsorbed onto 200-mesh formvar and carbon-coated copper grids (
Electron
Microscopy Sciences), stained with uranyl acetate solution (2 %, w/v), and then examined by transmission electron microscope (CM200, Phillips). Both phages had isometric heads of about 55 nm in diameter and long non-contractile tails of about 150 nm in length (Fig.
1
). For genomic characterization, nucleic acids were extracted from phage particles and treated with restriction enzymes. The genomic material of both phages were digested by enzymes such as
Nde
I and
Hha
I, showing that the two phages possessed dsDNA as their genomic material. Taken together, these results indicated the affiliation of these phages with the family
Siphoviridae
[
13
].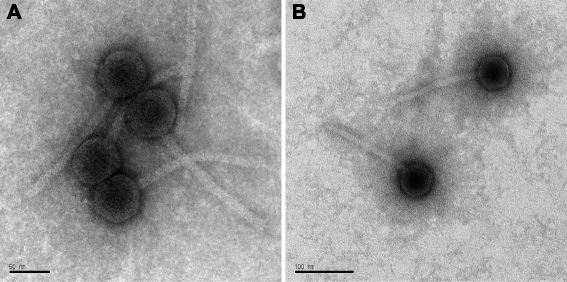 Genes encoding TerL were predicted from the genomes of both phages and were used for inference of the phylogenetic positions of the phages. Although mosaicism is known to be rather prevalent in phage genomes [
14
] and the family
Siphoviridae
is underexplored with regard to marker (signature) genes [
15
], the terminase large subunit gene has been widely used as a marker gene in phage studies [
16
,
17
]. TerL amino acid sequences of the two phages were identical and only distantly related to those of other phages representing the diverse genera of
Siphoviridae
[
18
] (Fig.
2
). The most similar TerL proteins among prokaryotic isolates were found mainly in the genomes of
Bacteroides
, most of which were isolated from animals including humans. Among phage isolates included in the nr database of GenBank, the highest similarities were recorded for
Cellulophaga
phage phi10:1 [
8
] and
Flavobacterium
phage 11b [
19
], both of which were isolated from marine environments and that are not yet assigned to any known genera of
Siphoviridae
. Taken together, TerL-based phylogeny suggested that P12002L and P12002S, the siphoviruses isolated in this study, occupied a phylogenetic position distinct from previously established genera of the family
Siphoviridae
.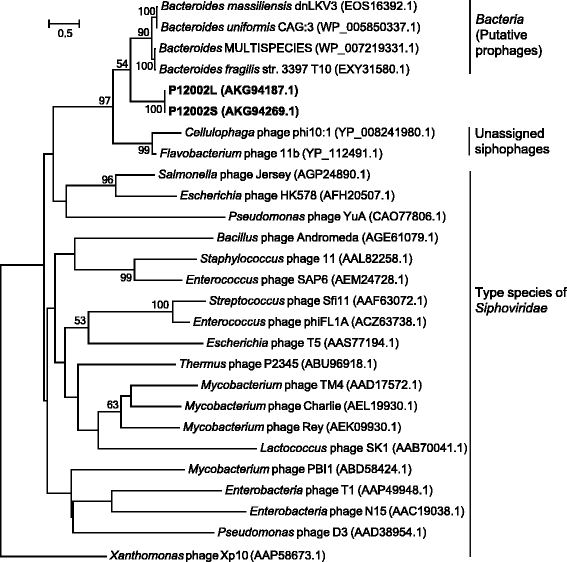 Information on the isolation, classification, and general features of the two phages are presented in Table
1
.
Table 1
Classification and general features of phages P12002L and P12002S according to the MIGS recommendations [39]
| MIGS ID | Property | Term | Evidence codea |
| --- | --- | --- | --- |
| | Classification | Domain: unassigned (ds DNA viruses) | |
| | | Phylum: unassigned | |
| | | Class: unassigned | |
| | | Order Caudovirales | TAS [13] |
| | | Family Siphoviridae | TAS [13] |
| | | Genus: unassigned | |
| | | Species: unassigned | |
| | | Strains: P12002L, P12002S | |
| | Particle shape | Isometric capsid with a long non-contractile tail | IDA |
| MIGS-6 | Habitat | Marine water column | IDA |
| MIGS-15 | Biotic relationship | Intracellular parasite of Polaribacter strain IMCC12002 | IDA |
| MIGS-14 | Pathogenicity | Non-pathogenic | NAS |
| MIGS-4 | Geographic location | The Yellow Sea, Incheon, South Korea | IDA |
| MIGS-5 | Sample collection | March 16, 2010 | IDA |
| MIGS-4.1 | Latitude | 37° 29′ 51′′ N | IDA |
| MIGS-4.2 | Longitude | 126° 38′ 26′′ E | IDA |
| MIGS-4.3 | Depth | 0.3 m | IDA |
| MIGS-4.4 | Altitude | - | - |
Genome sequencing information
Genome properties
The complete genomes of two phages were assembled into single circular contigs of 48,689 bp (P12002L) and 49,847 bp (P12002S) in length. Considering that the genomes of tailed dsDNA phages are known to be linear, this circular assembly suggests that the genomes were circularly permuted or terminally redundant [
35
]. The G + C contents of the two genomes were 28.9 %. The number of protein coding genes predicted in the two phage genomes were 82 (P12002L) and 86 (P12002S). No RNA genes or pseudogenes were predicted. Among the protein coding genes, only 16 and 14 genes in P12002L and P12002S, respectively, were assigned putative functions, while the other genes were annotated as hypothetical proteins. The annotation summaries for the two genomes are presented in Table
3
and detailed annotation information is shown in Additional file
1
: Tables S1 and S2. Distributions of the protein functions among COG functional categories are shown in Table
4
.
Table 3
Genome statistics
Attribute

P12002L

P12002S

Value

% of Totala

Value

% of Totala

Genome size (bp)

48,689

100.00

49,847

100.00

DNA coding (bp)

43,666

89.68

44,538

89.35

DNA G + C (bp)

14,088

28.93

14,422

28.93

DNA scaffolds

1

100.00

1

100.00

Total genes

82

100.00

86

100.00

Protein coding genes

82

100.00

86

100.00

RNA genes

0

0.00

0

0.00

Pseudo genes

0

0.00

0

0.00

Genes in internal clusters

0

0.00

0

0.00

Genes with function prediction

16

19.51

14

16.28

Genes assigned to COGs

9

10.98

9

10.47

Genes with Pfam domains

18

21.95

15

17.44

Genes with signal peptides

1

1.22

0

0.00

Genes with transmembrane helices

4

4.89

8

9.30

CRISPR repeats

0

0.00

0

0.00
Table 4
Number of genes associated with general COG functional categories
Code

P12002L

P12002S

Description

Value

% age

Value

% age

J

0

0

0

0

Translation, ribosomal structure and biogenesis

A

0

0

0

0

RNA processing and modification

K

0

0

0

0

Transcription

L

5

6.10

6

6.98

Replication, recombination and repair

B

0

0

0

0

Chromatin structure and dynamics

D

1

1.22

1

1.16

Cell cycle control, cell division, chromosome partitioning

V

1

1.22

2

2.33

Defense mechanisms

T

0

0

0

0

Signal transduction mechanisms

M

0

0

0

0

Cell wall/membrane biogenesis

N

0

0

0

0

Cell motility

U

0

0

0

0

Intracellular trafficking and secretion

O

0

0

0

0

Posttranslational modification, protein turnover, chaperones

C

0

0

0

0

Energy production and conversion

G

0

0

0

0

Carbohydrate transport and metabolism

E

0

0

0

0

Amino acid transport and metabolism

F

0

0

0

0

Nucleotide transport and metabolism

H

0

0

0

0

Coenzyme transport and metabolism

I

0

0

0

0

Lipid transport and metabolism

P

0

0

0

0

Inorganic ion transport and metabolism

Q

0

0

0

0

Secondary metabolites biosynthesis, transport and catabolism

R

4

4.88

3

3.49

General function prediction only

S

0

0

1

1.16

Function unknown

X

1

1.22

1

1.16

Mobilome: prophages, transposons

-

73

89.02

77

89.53

Not in COGs
The two phage genomes showed a modular structure, were syntenic over the whole genomes, and shared many genes, including terminase, carboxypeptidase, tail length tape measure protein, methyltransferase, replication initiation protein DnaA, and endonucleases (Fig.
3
).

Conclusion
P12002L and P12002S, two lytic siphophages isolated from coastal seawater of Korea, infect Polaribacter sp. strain IMCC12002, and therefore represent the first phages of the genus Polaribacter , a taxonomic group found widely in the marine water column. Complete genome sequences of the two phages were obtained by Illumina sequencing, and were annotated by the RAST server and searches against various databases. The two phages showed synteny over the whole length (≈50 kb) of their genomes and shared many genes. A phylogenetic analysis of TerL protein sequences suggested that the two phages might constitute a novel genus-level group of Siphoviridae.
Abbreviation
TerL:

Terminase large subunit
mR2A:

R2A broth dissolved in diluted aged seawater (seawater:distilled water = 4:1)
Declarations
Acknowledgements
This study was supported by the Basic Science Research Program through the National Research Foundation of Korea (NRF), funded by the Ministry of Education (NRF-2013R1A1A2063660), and also by a grant from the Marine Biotechnology Program (PJT200620, Genome Analysis of Marine Organisms and Development of Functional Applications), funded by the Ministry of Oceans and Fisheries, Korea.
Open AccessThis article is distributed under the terms of the Creative Commons Attribution 4.0 International License (http://creativecommons.org/licenses/by/4.0/), which permits unrestricted use, distribution, and reproduction in any medium, provided you give appropriate credit to the original author(s) and the source, provide a link to the Creative Commons license, and indicate if changes were made. The Creative Commons Public Domain Dedication waiver (http://creativecommons.org/publicdomain/zero/1.0/) applies to the data made available in this article, unless otherwise stated.
Authors' Affiliations
(1)
Department of Biological Sciences, Inha University, Incheon, Republic of Korea