Extended genome report

Open Access
High-quality draft genome sequence of Flavobacterium suncheonense GH29-5T (DSM 17707T) isolated from greenhouse soil in South Korea, and emended description of Flavobacterium suncheonense GH29-5T
Standards in Genomic Sciences
2016
11:42
Received: 10 December 2015
Accepted: 23 May 2016
Published: 16 June 2016
Abstract
Flavobacterium suncheonense is a member of the family Flavobacteriaceae in the phylum Bacteroidetes. Strain GH29-5T (DSM 17707T) was isolated from greenhouse soil in Suncheon, South Korea. F. suncheonense GH29-5T is part of the G enomic E ncyclopedia of B acteria and A rchaea project. The 2,880,663 bp long draft genome consists of 54 scaffolds with 2739 protein-coding genes and 82 RNA genes. The genome of strain GH29-5T has 117 genes encoding peptidases but a small number of genes encoding carbohydrate active enzymes (51 CAZymes). Metallo and serine peptidases were found most frequently. Among CAZymes, eight glycoside hydrolase families, nine glycosyl transferase families, two carbohydrate binding module families and four carbohydrate esterase families were identified. Suprisingly, polysaccharides utilization loci (PULs) were not found in strain GH29-5T. Based on the coherent physiological and genomic characteristics we suggest that F. suncheonense GH29-5T feeds rather on proteins than saccharides and lipids.
Keywords
Aerobic
Gliding motility
Greenhouse soil
Flavobacteriaceae
Bacteroidetes
GEBA
KMG-1
Tree of Life
GGDC
Carbohydrate active enzyme
Polysaccharide utilization loci
Introduction
Flavobacteria / Cytophagia have been frequently observed in aquatic and soil habitats [1–3] and play a major role in polysaccharide decomposition [2, 4, 5]. Type strains of the genus Flavobacterium have been isolated from many different habitats such as fresh water, sea ice and soil, and some Flavobacterium strains are pathogenic to humans and animals [2, 6]. Strain GH29-5T (= DSM 17707T = CIP 109901T = KACC 11423T ) is the type strain of Flavobacterium suncheonense [2, 7], which belongs to Flavobacteriaceae [8]. F. suncheonense GH29-5T was isolated from greenhouse soil in Korea [10]. Flavobacterium johnsoniae UW101T, a well studied model organism, was as well isolated from soil [11, 12] and harbors a considerable number of CAZymes and PULs [13]. Thus, an investigation of the genome of strain GH29-5T will give further insights into the variety of CAZymes and the polysaccharide decomposition potential of this microrganism.
Here we present the set of carbohydrate active enzymes, polysaccharide utilization loci and peptidases of F. suncheonense GH29-5T, together with a set of phenotypic features and the description and annotation of the high-quality draft genome sequence from a culture of DSM 17707T .
Organism information
Classification and features
The sequence of the single 16S rRNA gene copy in the genome is identical with the previously published 16S rRNA gene sequence (
DQ222428
). Figure
1
shows the phylogenetic neighborhood of
F. suncheonense
GH29-5
T
inferred from a tree of 16S rRNA gene sequence, as previously described [
14
]. The next related type species are
F. cauense
R2A-7
T
(
EU521691
),
F. enshiense
DK69
T
(
JN790956
),
F. limnosediminis
JC2902
T
(
JQ928688
) and
F. saliperosum
S13
T
(
DQ021903
) with less than 95.9 % 16S rRNA gene identity. The 16S rRNA gene sequence of strain GH29-5
T
has an identity of only 93.9 % with
F. aquatile
DSM 1132T
(
AM230485
).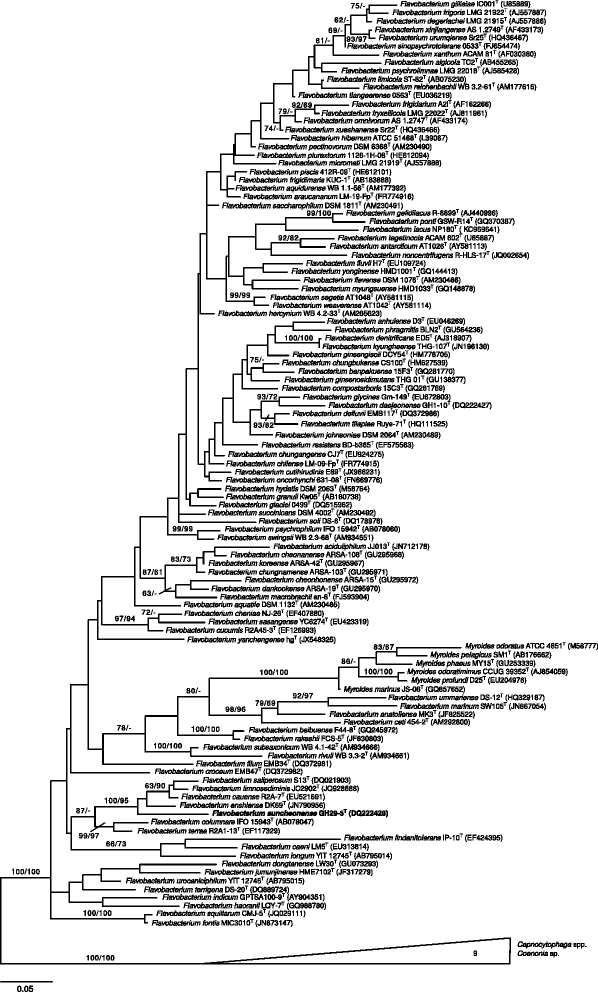 The 16S rRNA gene sequence of F. suncheonense GH29-5T was compared with the Greengenes database [15]. Considering the best 100 hits, 99 sequences belonged to Flavobacterium and one sequence to Cytophaga sp. (X85210). Among the most frequent keywords within the labels of environmental samples were 40.4 % marine habitats (such as marine sediment, deep sea, seawater, whale fall, diatom/phytoplankton bloom, Sargasso Sea, sponge, sea urchin, bacterioplankton), 12.3 % soil habitats (such as rhizosphere, grassland, compost), 11.6 % freshwater habitats (such as lake, riverine sediment, groundwater), 8.9 % cold environments (such as Antarctic/Artic seawater, lake ice or sediment), but also 2.7 % wastewater habitats. Interestingly, environmental 16S rRNA gene sequences with 99 % sequence identity with F. suncheonense GH29-5T were clones from wetland of France (KC432449) [16] and an enrichment culture of heterotrophic soil bacteria from the Netherlands (JQ855723), and with 98 % sequence identity to a soil isolate from Taiwan (DQ239767).
As described for
Flavobacterium
[
17
],
F. suncheonense
GH29-5
T
stains are Gram-negative (Table
1
). The colonies are convex, round and yellow, but flexirubin-type pigments are absent and gliding motility was not observed [
10
]. The strain is positive for the catalase and oxidase tests [
10
], as are most members of the genus
Flavobacterium
[
6
]. Cells divide by binary fission, possess appandages and occur either as single rod shaped cells, with 0.3 μm in width and 1.5–2.5 μm in length, or as filaments (Fig.
2
).
MIGS ID

Property

Term

Evidence code

Current classification

Domain: Bacteria

TAS [12]

Phylum: Bacteroidetes

Class: 'Flavobacteriia'

Order: Flavobacteriales

Family: Flavobacteriaceae

Genus: Flavobacterium

Species: Flavobacterium suncheonense

TAS [10]

Type strain: GH29-5T

TAS [10]

Gram-stain

Negative

TAS [10]

Cell shape

rod-shaped

TAS [10]

Motility

Nonmotile

TAS [10]

Sporulation

non-spore forming

NAS

Temperature range

mesophilic (15–37 °C)

TAS [10]

Optimum temperature

16–24 °C

TAS [10]

pH range; Optimum

6–8,

TAS [10]

Carbon source

Carbohydrates, peptides

TAS [10]

Energy source

chemoheterotroph

TAS [10]

MIGS-6

Habitat

greenhouse soil

TAS [10]

MIGS-

Salinity

0–1 % NaCl, 0 % NaCl

TAS [10]

MIGS-22

Oxygen requirement

aerobe

TAS [10]

MIGS-15

Biotic relationship

free-living

TAS [10]

MIGS-14

Pathogenicity

unknown

TAS [69]

Biosafety level

1

TAS [69]

MIGS-4

Geographic location

Suncheon City, South Korea

TAS [10]

MIGS-5

Sample collection

2005

TAS [10]

MIGS-

Latitude

34.954

TAS [10]

MIGS-4.2

Longitude

127.483

TAS [10]

MIGS-4.4

Altitude

not reported

TAS [10]

F. suncheonense GH29-5T grows between 15 °C and 37 °C, pH 6 and 8 and in media with up to 1 % NaCl [10], with optimal growth at pH 7.0 and without NaCl [7]. Strain GH29-5T decomposes gelatin and casein, but not starch, carboxymethyl cellulose, agar, alginate, pectin, chitin, aesculin and DNA [10]. Strain GH29-5T produces H2S and neither reduces nitrate nor produces indole or ferments glucose [10]. Moreover, strain GH29-5T does not utilize arabinose, mannose, N-acetyl-D-glucosamine, maltose, gluconate, caprate, adipate, malate, citrate and phenylacetate [19]. Strain GH29-5T possesses alkaline phosphatase, esterase C4, esterase lipase C8, leucine arylamidase, valine arylamidase, acid phosphatase, naphthol-AS-BI-phosphohydrolase and N-acetyl-β-glucosaminidase, but has no lipase C14, cystine arylamidase, trypsin, α-chymotrypsin, α-galactosidase, β-galactosidase, β-glucuronidase, α-glucosidase, β-glucosidase, α-mannosidase, α-fucosidase and urease activity [10].
Chemotaxonomic data
The major cellular fatty acids are iso-C15 : 0 (29.9 %), iso-C17 : 0 3-OH (17.7 %), iso-C15 : 1 G (12.0 %) and iso-C15 : 0 3-OH (11.1 %) and MK-6 is the sole quinone [10], as common in Flavobacterium [6]. Besides phosphatidylethanol-amine, several unidentified lipids, aminolipids and aminophospholipids were observed in strain GH29-5T [7]. The DNA G + C content was reported to be 39.0 mol % [10].
Genome sequencing information
Genome properties
The assembly of the draft genome sequence consists of 54 scaffolds amounting to 2,880,663 bp. The G + C content is 40.5 % (Table
3
) which is 1.5 % higher than previously reported by Kim et al. [
10
] and thus shows a difference that surpasses the maximal range among strains belonging to the same species [
40
]. Of the 2821 genes predicted, 2739 were protein-coding genes, and 82 RNAs. The majority of the protein-coding genes (69.2 %) were assigned a putative function while the remaining ones were annotated as hypothetical proteins. The distribution of genes into COG functional categories is presented in Table
4
.
Table 4
Number of genes associated with the general COG functional categories
| Code | Value | % age | Description |
| --- | --- | --- | --- |
| J | 178 | 11.5 | Translation, ribosomal structure and biogenesis |
| A | – | – | RNA processing and modification |
| K | 83 | 5.3 | Transcription |
| L | 76 | 4.9 | Replication, recombination and repair |
| B | 1 | 0.1 | Chromatin structure and dynamics |
| D | 24 | 1.5 | Cell cycle control, cell division, chromosome partitioning |
| Y | – | – | Nuclear structure |
| V | 44 | 2.8 | Defense mechanisms |
| T | 53 | 3.4 | Signal transduction mechanisms |
| M | 165 | 10.6 | Cell wall/membrane/envelope biogenesis |
| N | 10 | 0.6 | Cell motility |
| Z | – | – | Cytoskeleton |
| W | – | – | Extracellular structures |
| U | 15 | 1.0 | Intracellular trafficking, and secretion |
| O | 93 | 6.0 | Posttranslational modification, protein turnover, chaperones |
| C | 84 | 5.4 | Energy production and conversion |
| G | 51 | 3.1 | Carbohydrate transport and metabolism |
| E | 109 | 7.1 | Amino acid transport and metabolism |
| F | 62 | 4.0 | Nucleotide transport and metabolism |
| H | 99 | 6.4 | Coenzyme transport and metabolism |
| I | 77 | 5.0 | Lipid transport and metabolism |
| P | 74 | 4.8 | Inorganic ion transport and metabolism |
| Q | 29 | 1.9 | Secondary metabolites biosynthesis, transport and catabolism |
| R | 131 | 8.4 | General function prediction only |
| S | 83 | 5.3 | Function unknown |
| – | 1382 | 49.0 | Not in COGs |
Insights from the genome sequence
Conclusions
The genome of F. suncheonense GH29-5T contains a relaltively low number of carbohydrate active enzymes in contrast to genomes of other Flavobacteriaceae such as Flavobacterium branchiophilum [54], Flavobacterium rivuli [14], Formosa agariphila [55], Polaribacter [4, 56], ' Gramella forsetii ' [57] and Zobellia galactanivorans [17]. This is surpising, since greenhouse soil might be a rich source of plant litter. McBride et al. [13] described the genome features of Flavobacterium johnsoniae UW101T, a bacterium that was as well isolated from soil [11, 58]. Both the genomes of F. johnsoniae UW101T and F. suncheonense GH29-5T have an almost equal number of 31 and 39 peptidases per Mbp, respectively. The genomes, however, differ remarkably in the number of CAZymes, with 47 genes per Mbp in the genome of F. johnsoniae UW101T and only 18 genes per Mbp in the genome of F. suncheonense GH29-5T. Thus, this small set of CAZymes contributes only little to a pool of enzymes, which might be essential for a Flavobacterium to feed on soil components.
A systematic collection of genome sequences, such as GEBA [23] and KMG-1 [22], will provide the scientific community with the possibility for a systematic discovery of genes encoding for novel enzymes [24] and support microbial taxonomy. In addition, genome sequences also provide further taxonomically useful information such as the G + C content [40], which, as seen in this report might significantly differ from the values determined with traditional methods.
Based on the observed large difference in the DNA G + C content and the additional information on cell morphology obtained in this study, an emended description of F. suncheonense is proposed.
Emended description of F. suncheonense GH29-5T Kim et al. 2006 emend. Dong et al. 2013
The description of Flavobacterium suncheonense is as given by Kim et al. [10] and Dong et al. [7], with the following modifications: the DNA G + C content is 40.5 mol%, and amendments: possesses appendages of 50–80 nm in diameter and 0.5–8 μm in length.
Abbreviations
DOE:

Department of Energy
EMBL:

European molecular biology laboratory
GEBA:

Genomic encyclopedia of Bacteria and Archaea
JGI:

Joint Genome Institute
IMG-ER:

Integrated microbial genomes – expert review
KMG:

One thousand microbial genomes project
RDP:

Ribosomal database project (East Lansing, MI, USA)
Declarations
Acknowledgments
The authors gratefully acknowledge the help of Andrea Schütze for growing cells of GH29-5T and of Evelyne-Marie Brambilla (both at DSMZ), for DNA extraction and quality control. This work was performed under the auspices of the US Department of Energy's Office of Science, Biological and Environmental Research Program, and by the University of California, Lawrence Berkeley National Laboratory under contract No. DE-AC02-05CH11231. AL was supported by the St. Petersburg State University grant (No 1.38.253.2015). R.L.H. was supported by the Bundesministerium für Ernährung und Landwirtschaft No. 22016812 (PI Brian J. Tindall). We would also like to thank the Center of Nanotechnology at King Abdulaziz University for their support.
Authors' contributions
HPK and NCK initiated the study. RLH, SS, NT, MF, NCK and HPK designed research and project outline. SS, NT, MF, RLH, JPMK, MG, BJT, HPK and NCK drafted the manuscript. AL, JH, MP, TBKR, MH, AP, NNI, VM, TW and NCK sequenced, assembled and annotated the genome. MNB and NAB provided financial support. SH performed CAZy and MEROPS analysis. RLH investigated the CAZymes and PUL. JPMK conducted comparative genomics. JPMK and RLA performed 16S rRNA based phylogeny. MR performed electron microscopy. All authors read and approved the final manuscript.
Competing interests
The authors declare that they have no competing interests.
Open AccessThis article is distributed under the terms of the Creative Commons Attribution 4.0 International License (http://creativecommons.org/licenses/by/4.0/), which permits unrestricted use, distribution, and reproduction in any medium, provided you give appropriate credit to the original author(s) and the source, provide a link to the Creative Commons license, and indicate if changes were made. The Creative Commons Public Domain Dedication waiver (http://creativecommons.org/publicdomain/zero/1.0/) applies to the data made available in this article, unless otherwise stated.
Authors' Affiliations
(1)
Department of Biological Sciences, Faculty of Science, King Abdulaziz University, Jeddah, Saudi Arabia
(2)
Leibniz Institute DSMZ – German Collection of Microorganisms and Cell Cultures, Braunschweig, Germany
(3)
HZI – Helmholtz Centre for Infection Research, Braunschweig, Germany
(4)
Center of Nanotechnology, King Abdulaziz University, Jeddah, Saudi Arabia
(5)
Centre for Algorithmic Biotechnology, St. Petersburg State University, St. Petersburg, Russia
(6)
Department of Energy Joint Genome Institute, Genome Biology Program, Walnut Creek, USA
(7)
Biological Data Management and Technology Center, Lawrence Berkeley National Laboratory, Berkeley, USA
(8)
School of Biology, Newcastle University, Newcastle upon Tyne, UK