Short genome report

Open Access
Complete genome of Nitrosospira briensis C-128, an ammonia-oxidizing bacterium from agricultural soil
Standards in Genomic Sciences
2016
11:46
Received: 10 December 2015
Accepted: 18 July 2016
Published: 28 July 2016
Abstract
Nitrosospira briensis C-128 is an ammonia-oxidizing bacterium isolated from an acid agricultural soil. N. briensis C-128 was sequenced with PacBio RS technologies at the DOE-Joint Genome Institute through their Community Science Program (2010). The high-quality finished genome contains one chromosome of 3.21 Mb and no plasmids. We identified 3073 gene models, 3018 of which are protein coding. The two-way average nucleotide identity between the chromosomes of Nitrosospira multiformis ATCC 25196 and Nitrosospira briensis C-128 was found to be 77.2 %. Multiple copies of modules encoding chemolithotrophic metabolism were identified in their genomic context. The gene inventory supports chemolithotrophic metabolism with implications for function in soil environments.
Keywords
Nitrosospira
Ammonia-oxidizing bacteria
Nitrification
Agricultural soil
Ammonia monooxygenase
Nitrous oxide
Chemolithotroph
Introduction
The first step in the aerobic nitrification process is the oxidation of ammonia to nitrite, mediated mainly by AOB or AOA in soil environments. The most numerous AOB isolated or detected by non-cultural methods in aerobic agricultural surface soils are consistently members of the Nitrosospira genus [1]. Nitrosospira briensis C-128 [2] is a chemolithoautotrophic ammonia-oxidizing betaproteobacterium (order Nitrosomonadales , family Nitrosomonadaceae , genus Nitrosospira [3–9]) isolated from a fertilized soil under cultivation for blueberry in Falmouth, Massachusetts, USA in 1971. The genome of Nitrosospira briensis C-128 is the third genome sequence from the genus Nitrosospira [8–10] to be published [11–13] and thus provides an important comparison among Nitrosospira . This report includes a summary of the genome sequence and selected features for Nitrosospira briensis C-128 and results are publically available in GenBank accession CP012371.
Organism information
Classification and features
Nitrosospira briensis
was described by Winogradsky and & Winogradsky in 1933 [
8
] as an ammonia-oxidizing bacterium isolated from soil. The genus name,
Nitrosospira
,
is derived from two Latin roots: nitrosus, meaning nitrous, and spira, indicating spiral. The species name
briensis
, refers to the original isolation location near Brie, France. The culture described by Winogradsky & Winogradsky [
8
] was not maintained and reisolation of a replacement strain was reported by Watson in 1971 [
14
]. At approximately the same time,
N. briensis
strain C-128 was isolated by enrichment culturing [
15
] from a surface soil sample (pH 6.2) collected from a fertilized blueberry patch in East Falmouth, Massachusetts in 1971 (Frederica Valois). In 1993, the genus
Nitrosospira
was emended to include the former genera of
Nitrosovibrio
and
Nitrosolobus
[
9
] based on the high identities of the 16S rRNA gene sequences.
Nitrosospira briensis
was designated the type species for the genus with strain C-76 as the type strain (also known as strain Nsp10 [
16
]
1
). The full-length 16S rRNA gene sequence of
N. briensis
C-128 is 99 % identical to the
N. briensis
strain C-76/Nsp10 sequence (Fig.
1
). The culture of
N. briensis
strain C-128 was received in the Norton laboratory from F. Valois (Woods Hole Oceanographic Institution) in 1995.
Nitrosospira briensis
C-128 is presently maintained in a culture collection at WHOI and may be obtained upon request from J.M. Norton. Classification and general features of
Nitrosospira briensis
C-128 are provided as
Minimum Information about the Genome Sequence
(MIGS) in Table
1
.
Electron
micrographs of the pure culture organism are shown in Fig.
2
revealing the tight spirals visible with TEM negative staining and the convoluted surface of this
Nitrosospira
as revealed by SEM.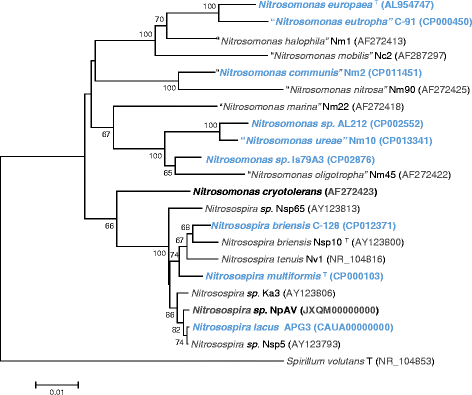 MIGS ID

Property

Term

Evidence codea

Current classification

Domain Bacteria

TAS [44]

Phylum Proteobacteria

TAS [45]

Class Betaproteobacteria

Order Nitrosomonadales

Family Nitrosomonadaceae

Genus Nitrosospira

Species Nitrosospira briensis

Strain C-128

IDA

Gram stain

negative

TAS [14]

Cell shape

Spiral/vibrioid

IDA

Motility

motile

TAS [14]

Sporulation

Non-sporulating

TAS [14]

Temperature range

15–30 °C

TAS [14]

Optimum temperature

25–28 °C

TAS [14]

pH range; Optimum

6.0–8.2;7.0

TAS [14]

Carbon source

carbon dioxide; carbonate

TAS [14]

Energy source

ammonia oxidation

TAS [14]

Energy metabolism

chemolithotroph

TAS [14]

MIGS-6

Habitat

soil (acid)

IDA

MIGS-6.3

Salinity

Non-halophile

TAS [14]

MIGS-22

Oxygen requirement

Aerobic

TAS [14]

MIGS-23

Isolation and growth conditions

Isolation after enrichment on inorganic ammonium salts medium

TAS [14]

MIGS-15

Biotic relationship

Free living

NAS

MIGS-14

Pathogenicity

Non-pathogen

NAS

Biosafety level

1

NAS

MIGS-4

Geographic location

East Falmouth, MA, USA

NAS

MIGS-4.1

Latitude

41°35′38″ N

NAS

MIGS-4.2

Longitude

70°34′20″ W

NAS

MIGS-4.3

Depth

surface soil

NAS

MIGS-4.4

Altitude

6 m

NAS

MIGS-5

Sample collection

1971 Feb 18

NAS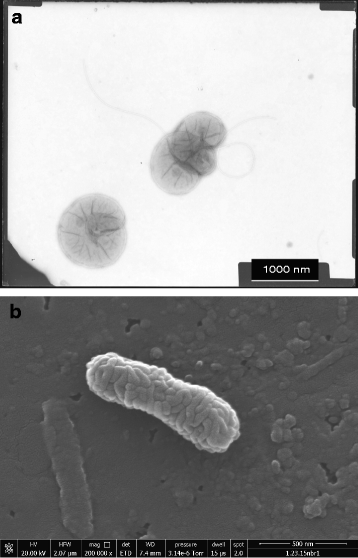 Genome sequencing information
Insights from the genome sequence
Selected functional inventory in the complete genome sequence
Nitrosospira briensis C-128 contains complete "amo" and "hao" gene clusters in three nearly identical copies on the chromosome. The full-length amoCABEDcopCD gene cluster is repeated twice (F822_1680-1686, & 2228–2234) while the third cluster contains only the three structural "amo" genes, amoCAB (F822_0880-0878). As in most other betaproteobacterial AOB genomes, the N. briensis C-128 genome contains three additional amoC singleton genes (F822_0485, 1530, & 2742). The "hydroxylamine-ubiquinone redox module" (HURM) [24] is encoded by the haoAB-cycAB gene cluster, which occurs three times (F822_0640-0643, 0873–0876, 1808–1811) in the genome sequence. The N. briensis C-128 genome also encodes nitrosocyanin (ncyA; F822_2886), a protein unique to ammonia-oxidizing bacteria, which possibly functions in the regulation of electron transfer [35]. A urease operon containing α, β, & γ subunit-encoding genes as well as genes encoding accessory proteins E, F, G, & H (F822_0450-0456) is preceded by a urea transporter gene (utp; F822_0449). Genes encoding alternative catabolic inventory such as hydrogenase were not identified. The N. briensis C-128 genome contains a single gene cluster encoding the Calvin-Benson-Bassham cycle for carbon assimilation including the carboxylation reaction, which is encoded by a single-copy cbb operon in the Form 1C (red-like) subgroup (F822_1009-1012) with > 90 % identity with homologous genes in Nitrosospira multiformis [36] and Nitrosospira sp. 40KI [37].
Genes encoding inventory implicated in nitrogen oxide metabolism and /or nitrosative stress [38] include those for copper nitrite reductase (nirK, singleton F822_2604) and a possible quinol nitric oxide reductase (qNOR) encoding gene (F822_0115). Similar to arrangements in many AOB genomes, a gene cluster (norSY-senC-orf1) (F822_ 1803–1806) encoding nitric oxide reductase heme-copper oxidase (sNOR) was found upstream of a nitrite transporter gene (F822_1807) and one of the three haoAB-cycAB clusters. However, the norCBQD cluster encoding cytochrome C nitric oxide reductase (cNOR) was not found. The genes encoding precursors of cytochromes c'-beta (cytS) and P-460 (cytL) were not detected in the C-128 genome sequence. The gene of NO-responsive regulator (nnrS) was present albeit truncated.
CRISPR/Cas System Nitrosospira briensis C-128 contains a CRISPR/Cas system located at F822_1846-1851 suggestive of phage interactions [39]. The CRISPR-associated (CAS) proteins belong to the subtype 1-F ( Yersinia pestis type) [40]. The CRISPR contains 11 spacers each with 32 bp. No matches between these spacers and protospacers in viral genomes were detected in the NCBI non-redundant database. The direct repeat sequence in the CRISPR is 28 bp: TTTCTGAGCTGCCTATGCGGCAGTGAAC. As soil viral metagenomes become better characterized, associations between viral protospacers and the spacers found in N. briensis ' CRISPR may help to identify possible phage types of N. briensis .
Conclusions
Nitrosospira briensis C-128 has a suite of genes enabling it to survive in soil environments as a chemolithoautotroph. The completion of several genomes in the Nitrosospira genus will facilitate a comprehensive analysis of the genetic toolkit that enables these AOB to co-inhabit the terrestrial niche. Further experiments elucidating gene function, especially those involved in the metabolism of nitrogen oxides and related to nitrosative stress [41], will increase the relevance of the completed genome of Nitrosospira briensis C-128. The evolutionary relationships in the genera of the Nitrosomonadaceae are currently under reconsideration.
Footnotes
1
Editor's note – Readers are advised that the published record regarding the type strain and a proposed neotype strain of Nitrosospira briensis is problematic. Although the Approved Lists of Bacterial Names (Int J Syst Bacteriol 1980; 30:225) list the type as "no culture available", Koops and Harms subsequently published on strain Nsp 10 as the equivalent to ATCC 25971 (Arch Microbiol 1985; 141:214–218)
Abbreviations
AOA:

Ammonia-oxidizing archaea
AOB:

Ammonia-oxidizing bacteria
WHOI:

Woods Hole Oceanographic Institution
Declarations
Acknowledgements
We thank Frederica Valois for years of maintenance and documentation of the Stanley Watson and John Waterbury collection of AOB at WHOI and for sending us this organism. Original TEM micrographs were obtained from the WHOI Archives by F. Valois. We would like to thank Fen-Ann Shen (USU) for her help in obtaining the SEM. We thank JGI for re-sequencing this genome using improved sequencing technologies. The work was supported by the U.S. Department of Energy, Office of Science JGI under Contract No. DE-AC02-05CH11231 for CSP 2010 project 1012224; USDA NIFA Award 2011-67019-30178, and the Utah Agricultural Experiment Station, Utah State University project UTA00371 and approved as journal paper 8806.
Authors' contributions
MCR isolated the DNA, worked on directed sequencing, obtained the SEM and wrote the first draft of the article; FV maintains AOB culture collection at WHOI and provided the strain and original TEM, JMN was the PI of the original CSP and lab director; sequencing, assembly and annotation at JGI, project manager at JGI was NS. JMN drafted the manuscript, which was subsequently discussed, revised and improved by all co-authors. All authors read and approved the final manuscript.
Competing interests
The authors declare that they have no competing interests.
Open AccessThis article is distributed under the terms of the Creative Commons Attribution 4.0 International License (http://creativecommons.org/licenses/by/4.0/), which permits unrestricted use, distribution, and reproduction in any medium, provided you give appropriate credit to the original author(s) and the source, provide a link to the Creative Commons license, and indicate if changes were made. The Creative Commons Public Domain Dedication waiver (http://creativecommons.org/publicdomain/zero/1.0/) applies to the data made available in this article, unless otherwise stated.
Authors' Affiliations
(1)
Utah State University, Logan, USA
(2)
Woods Hole Oceanographic Institution, Woods Hole, USA
(3)
Miami University, Oxford, USA
(4)
Oregon State University, Corvallis, USA
(5)
Queens College in The City University of New York, Flushing, USA
(6)
The Institute of Marine Microbes and Ecospheres, Xiamen University, Xiamen, China
(7)
Netherlands Institute of Ecology, Wageningen, The Netherlands
(8)
Utrecht University, Utrecht, The Netherlands
(9)
Chuo University, Tokyo, Japan
(10)
University of Alberta, Edmonton, Canada
(11)
DOE Joint Genome Institute, Walnut Creek, USA
(12)
Los Alamos National Laboratory, Bioscience Division, Los Alamos, USA