Extended genome report

Open Access
Complete genome sequence of Desulfurivibrio alkaliphilus strain AHT2T, a haloalkaliphilic sulfidogen from Egyptian hypersaline alkaline lakes
Standards in Genomic Sciences
2016
11:67
Received: 16 May 2016
Accepted: 25 August 2016
Published: 8 September 2016
Abstract
Desulfurivibrio alkaliphilus strain AHT2T is a strictly anaerobic sulfidogenic haloalkaliphile isolated from a composite sediment sample of eight hypersaline alkaline lakes in the Wadi al Natrun valley in the Egyptian Libyan Desert. D. alkaliphilus AHT2T is Gram-negative and belongs to the family Desulfobulbaceae within the Deltaproteobacteria. Here we report its genome sequence, which contains a 3.10 Mbp chromosome. D. alkaliphilus AHT2T is adapted to survive under highly alkaline and moderately saline conditions and therefore, is relevant to the biotechnology industry and life under extreme conditions. For these reasons, D. alkaliphilus AHT2T was sequenced by the DOE Joint Genome Institute as part of the Community Science Program.
Keywords
Deltaproteobacteria
Soda lake
Sediment
Sulfur cycle
Sulfur disproportionation
Introduction
Soda lakes are extreme environments with high salinity and highly alkaline pH values. They are formed in arid regions where high rates of evaporation lead to the accumulation of sodium carbonate salts, which are dominant in these distinctive lakes. Soda lakes support an active microbial sulfur cycle, enhanced by the stability of intermediate sulfur species such as thiosulfate and polysulfides and much lower toxicity of sulfide at these elevated pH conditions. Correspondingly, a wide variety of anaerobic haloalkaliphiles active in the reductive sulfur cycle have been isolated from these lakes [1]. Insights into sulfur redox processes will contribute to understanding how haloalkaliphilic organisms survive and thrive under dual extreme conditions. Some metabolic processes within the reductive sulfur cycle are more favorable under alkaline pH conditions than under circumneutral conditions, such as the disproportionation of elemental sulfur [2]. These sulfur redox processes are not only relevant in natural haloalkaline environments, some wastewater and gas desulfurization treatment plants are often operated at high salt concentrations and pH values where haloalkaliphiles play a role in the remediation of the affected areas. Thus, the haloalkaliphile Desulfurivibrio alkaliphilus strain AHT2T was sequenced for its relevance to sulfur cycling and the environmental biotechnology sector by the DOE-JGI Community Science Program.
Organism information
Classification and features
D. alkaliphilus
AHT2
T
is the type strain of the
Desulfurivibrio alkaliphilus
species and was isolated from a mixed sediment sample from eight hypersaline alkaline lakes in the Wadi al Natrun valley in the Libyan Desert (
Egypt
) [
3
]. The cells are Gram-negative, non-motile, curved rods that do not form spores (Fig.
1
).
D. alkaliphilus
AHT2
T
tolerates sodium carbonate concentrations ranging from 0.2 - 2.5 M total Na
+
and grows within a pH range of 8.5 - 10.3 (optimum at pH 9.5) [
3
]. Phylogenetic analysis showed that the strain belongs to the family
Desulfobulbaceae
within the
Deltaproteobacteria
and is most closely related to a, so far undescribed, haloalkaliphilic chemoautotrophic sulfur-disproportionator within the same genus:
Desulfurivibrio
sp. strain AMeS2 [
2
]. Strains AMeS2 and AHT2
T
are, so far, the only known representatives of the
Desulfurivibrio
genus (Fig.
2
). The closest sequenced relative to this novel genus, is another soda lake isolate delta proteobacterium sp. MLMS-1, which has been enriched as an arsenate-dependent sulfide oxidizer [
4
].
D. alkaliphilus
AHT2
T
is able to reduce thiosulfate and elemental sulfur [
3
] and plays a role in the reductive sulfur cycle in soda lake environments [
1
].
D. alkaliphilus
AHT2
T
is also capable of chemolithoautotrophic growth through the disproportionation of elemental sulfur under alkaline pH conditions without iron(III) oxides [
2
], which are normally required by neutrophilic sulfur disproportionators. More classifications and features are listed in Table
1
.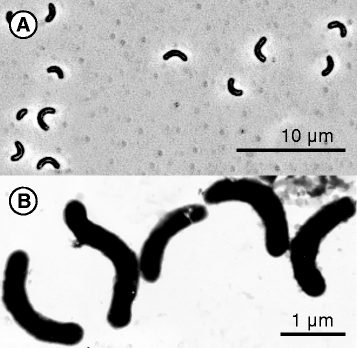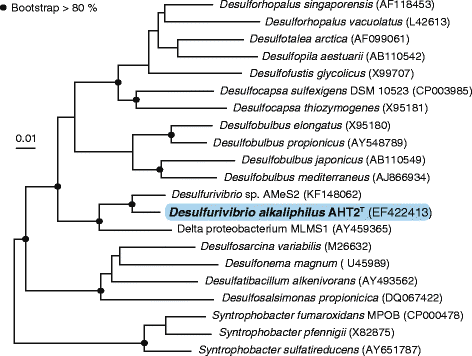 Table 1
Classification and general features of D. alkaliphilus AHT2T
MIGS ID

Property

Term

Evidence code

Classification

Domain: Bacteria

TAS [39]

Phylum: Proteobacteria

Class: Deltaproteobacteria

Order: Desulfobacterales

Family: Desulfobulbaceae

Genus: Desulfurivibrio

Species: Desulfurivibrio alkaliphilus

Type strain: AHT2T

TAS [3]

Gram stain

negative

Cell shape

rod-shaped

Motility

non-motile

Sporulation

nonsporulating

Temperature range

mesophile

Optimum temperature

35

pH range; Optimum

8.5–10.3; 9.5

TAS [3]

Carbon source

acetate, HCO3 −

TAS [3]

GS-6

Habitat

hypersaline alkaline lake sediments

MIGS-6.3

Salinity

moderately salt-tolerant

MIGS-22

Oxygen requirement

anaerobe

MIGS-15

Biotic relationship

free living

MIGS-14

Pathogenicity

none

MIGS-4

Geographic location

Wadi al Natrun, Libyan Desert (Egypt)

MIGS-5

Sample collection

September 2000

MIGS-4.1

Latitude – Longitude

30° 24′ N

MIGS-4.2

30° 18′ E

MIGS-4.3

Depth

0–10 cm

TAS [3]

MIGS-4.4

Altitude

−20 m
Genome sequencing information
Genome properties
The genome is 3,097,763 bp long with GC content of 60.29 % (Table
3
). 2732 genes were found, of which 2676 are annotated as protein-coding genes and 56 are RNA genes (47 tRNA genes). A total of 75 % of the protein-coding genes have been assigned a function prediction and 62.26 % have been assigned to a COG (Table
3
). The number of genes assigned to each functional COG category is listed in Table
4
.
Table 3
Nucleotide content and gene count levels of the genome
| Attribute | Value | % of total |
| --- | --- | --- |
| Genome size (bp) | 3,097,763 | 100.00 |
| DNA coding (bp) | 2,806,423 | 90.60 |
| DNA G + C (bp) | 1,867,527 | 60.29 |
| DNA scaffolds | 1 | 100.00 |
| Total genes | 2,732 | 100.00 |
| Protein coding genes | 2,676 | 97.95 |
| RNA genes | 56 | 2.05 |
| Pseudo genes | 56 | 2.05 |
| Genes in internal clusters | 103 | 3.77 |
| Genes with function prediction | 2,049 | 75 |
| Genes assigned to COGs | 1,701 | 62.26 |
| Genes with Pfam domains | 2,280 | 83.46 |
| Genes with signal peptides | 175 | 6.41 |
| Genes with transmembrane helices | 672 | 24.60 |
| CRISPR repeats | 2 | |
Table 4
Number of genes associated with general COG functional categories
| Code | Value | % of total | Description |
| --- | --- | --- | --- |
| J | 180 | 9.50 | Translation, ribosomal structure and biogenesis |
| A | NA | | RNA processing and modification |
| K | 72 | 3.80 | Transcription |
| L | 84 | 4.43 | Replication, recombination and repair |
| B | 2 | 0.11 | Chromatin structure and dynamics |
| D | 26 | 1.37 | Cell cycle control, cell division, chromosome partitioning |
| V | 44 | 2.32 | Defense mechanisms |
| T | 134 | 7.07 | Signal transduction mechanisms |
| M | 149 | 7.86 | Cell wall/membrane biogenesis |
| N | 82 | 4.33 | Cell motility |
| U | 50 | 2.64 | Intracellular trafficking and secretion |
| O | 93 | 4.91 | Posttranslational modification, protein turnover, chaperones |
| C | 139 | 7.34 | Energy production and conversion |
| G | 67 | 3.54 | Carbohydrate transport and metabolism |
| E | 129 | 6.81 | Amino acid transport and metabolism |
| F | 53 | 2.80 | Nucleotide transport and metabolism |
| H | 132 | 6.97 | Coenzyme transport and metabolism |
| I | 52 | 2.74 | Lipid transport and metabolism |
| P | 130 | 6.86 | Inorganic ion transport and metabolism |
| Q | 20 | 1.06 | Secondary metabolites biosynthesis, transport and catabolism |
| R | 134 | 7.07 | General function prediction only |
| S | 70 | 3.69 | Function unknown |
| - | 1031 | 37.74 | Not in COGs |
Extended insights from the genome sequence
Carbon fixation
In order to grow chemolithoautotrophically,
D. alkaliphilus
AHT2
T
assimilates inorganic carbon from the environment. The genome of
D. alkaliphilus
AHT2
T
contains the key genes necessary for the WL pathway, a mode of carbon fixation from CO
2
, which can run in the reductive and oxidative direction [
22
]. In the reductive direction, carbon is fixed from inorganic CO
2
to cell material. The WL pathway functions in this direction in many representatives of sulfate-reducing bacteria within the
Deltaproteobacteria
. Some organisms may couple the reverse, or oxidative, direction to sulfate reduction. The WL gene clusters have previously been defined for delta proteobacterium sp. MLMS-1 from Mono Lake [
23
], the closest sequenced relative of
D. alkaliphilus
AHT2
T
(Fig.
2
). Here we identified the WL genes necessary for carbon fixation by comparing the corresponding delta proteobacterium sp. MLMS-1 gene clusters to those present in
D. alkaliphilus
AHT2
T
using the JGI IMG database (Fig.
3
). The first step in the reductive pathway is the reduction of CO
2
to formate, by formate dehydrogenase (DaAHT2_0823 and an accessory protein DaAHT2_0820). This is followed by formyl-THF synthetase (DaAHT2_0837) and a methylene-THF dehydrogenase/cyclohydrolase (DaAHT2_0828) and a methylene-THF reductase (DaAHT2_0827). The
acs
gene cluster is necessary for the carbonyl branch of the reaction [
22
], which starts with the reduction of CO
2
to carbon monoxide by a carbon monoxide dehydrogenase (DaAHT2_0826). In the last step, the products of the carbonyl and methyl branch are combined to form the product acetyl-CoA, by a CO dehydrogenase/acetyl-CoA synthase complex (DaAHT2_0825 and DaAHT2_0824). The end product of the WL cycle is typically acetate, however, the genes needed to convert acetyl-CoA to the end product acetate are absent in the
D. alkaliphilus
AHT2
T
genome, resulting in acetyl CoA being the carbon end product which can be incorporated into biomass.

Sulfur cycle
Culture studies have provided evidence that D. alkaliphilus AHT2T is able to reduce a number of different sulfur redox species to conserve energy [4]. The dsr cluster catalyzes sulfite reduction to sulfide [24, 25], which is also present in the D. alkaliphilus AHT2T genome consisting of dsrABC (DaAHT2_0296, DaAHT2_0297, DaAHT2_2041) and dsrMK(JOP) (DaAHT2_2298-DaAHT2_2302). D. alkaliphilus AHT2T also has genes which may be involved in the oxidative branch of sulfite disproportionation: a sulfate adenylyltransferase sat (DaAHT2_0293) and two adenylylsulfate reductase subunits aprAB (alpha: DaAHT2_1471 and beta: DaAHT2_1472). In the haloalkaline environment from which D. alkaliphilus AHT2T was isolated, intermediate redox species of sulfur such as polysulfides and thiosulfate are abundantly present. The genes for the reduction of elemental sulfur (polysulfides) and thiosulfate (psr/phs) are annotated together as a single KEGG ortholog, namely K08352 [26]. However, the psr and phs genes have been identified individually in different organisms and are responsible for different reactions.
The molybdenum-containing polysulfide reductase gene
psrA
(WS0116 / Ga0076602_11110) was first identified in the sulfur/polysulfide-reducing epsilonproteobacterium
Wolinella succinogenes
[
27
,
28
]. The thiosulfate reductase operon
phs
(STY2271-STY2269) was first identified in the enteric bacterium
Salmonella typhimurium
[
29
,
30
]. The genome of
D. alkaliphilus
AHT2
T
contains two molybdopterin oxidoreductases (DaAHT2_0547 and DaAHT2_0420) (Fig.
4a
). In order to determine whether the
D. alkaliphilus
AHT2
T
gene cluster is a
psr
or a
phs
operon, we used eggNOG 4.5 [
31
] to find 446 orthologs of
psrA
(WS0116 / Ga0076602_11110) in 233 species, from which a phylogenetic neighbor-joining tree was constructed and trimmed (Fig.
4b
). The molybdopterin oxidoreductase sequences of
D. alkaliphilus
AHT2
T
(DaAHT2_0420 and DaAHT2_0547) did not cluster within the
psr
or
phs
branch (Fig.
4b
). Nevertheless, they are part of the same orthologous group as the
W. succinogenes
psrA
(ENOG4107QY8) with which they share 24,80 % (DaAHT2_0547) and 31,75 % (DaAHT2_0420) identity. The
S. typhimurium
phsA
is clustered in the same orthologous group and is 27,34 identical to DaAHT2_0547 and 29,79 % identical to DaAHT2_0420 (Fig.
4a
). Only one of the
D. alkaliphilus
AHT2
T
phsA/psrA
genes is located within an operon of three subunits (Fig.
4a
). This means that the
D. alkaliphilus
AHT2
T
gene with the locus tag DaAHT2_0420 is most probably the active
psrA/phsA
. Laboratory culture evidence points towards the
D. alkaliphilus
AHT2
T
DaAHT2_4020 – DaAHT2_0418 operon being functional as a sulfur reductase, as it is unable to grow on thiosulfate in absence of H
2
as electron donor [
3
]. In addition, the operon is directly adjacent to a sulfur transferase rhodanese domain (DaAHT2_0417), which has been suggested to be essential for the binding, stabilizing and transferring sulfur to the
psrA
subunit [
32
]. However, more research is needed to define this gene operon as either a
psr
or a
phs
gene cluster.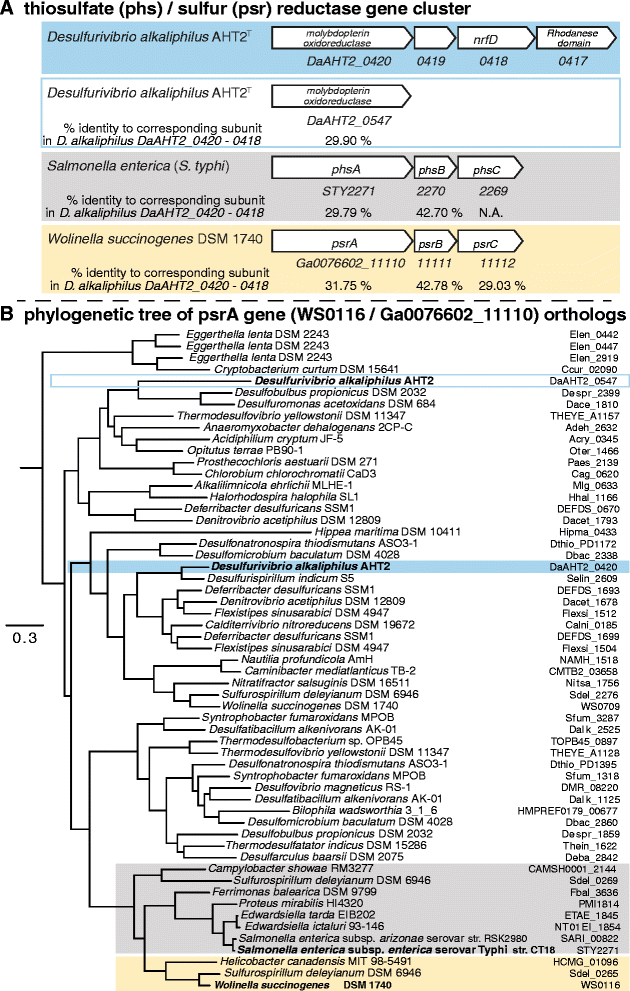 Adaptations to the haloalkaline environment
There are several adaptations that haloalkaliphiles can use to survive in the haloalkaline environment: bioenergetic adaptations, structural membrane adaptations and the use of osmoprotectants to retain osmotic balance [
1
]. The genome of
D. alkaliphilus
AHT2
T
contains a voltage gated sodium channel gene
ncbA
(DaAHT2_0077) and the electrogenic sodium/proton antiporter
mrpBCDEFG
operon (DaAHT2_2362 to DaAHT2_2357). The
nqr
operon encodes a sodium pumping NADH: quinone oxidoreductase (alternative to H
+
-pumping conventional NADH-quionone oxidoreductases) that shuttles electrons from NADH to ubiquinone [
33
,
34
]. The
D. alkaliphilus
AHT2
T
genome contains the first account of the
nqr
operon in anaerobic haloalkaliphiles [
35
,
36
]. The locus tags of the
nqr
gene cluster
nqrA
-
nqrF
in
D. alkaliphilus
AHT2
T
are DaAHT2_0042 – DaAHT2_0047, and we also found this cluster in
D. alkaliphilus
AHT2
T
's closest sequenced relative delta proteobacterium sp. MLMS-1 (mldDRAFT_0493-0498) (Fig.
5
). The
D. alkaliphilus
AHT2
T
genome does not contain genes for the synthesis of ectoine or betaine, which function as common osmoprotectants in haloalkaliphiles, but it does have a choline/betaine transporter (DaAHT2_1056).

Conclusions
In this manuscript we give a short description of the D. alkaliphilus AHT2T genome, which was isolated from hypersaline soda lake sediments in the Libyan Desert in Egypt. Its ability to perform inorganic sulfur disproportionation reactions in laboratory cultures indicates that the necessary gene pathways are present in the genome of this organism. The metabolic pathways of disproportionation are so far poorly understood; therefore, further investigation of the D. alkaliphilus AHT2T genome may lead to insights which genes are essential to this metabolism. In addition, a more in depth genome sequence analysis might provide more insights into autotrophic carbon metabolism in haloalkaline environments.
Abbreviations
acsA :

Carbon monoxide dehydrogenase
acsB :

Acetyl-CoA synthase
acsC :

Corrinoid iron-sulfur protein large subunit
Formate DH :

Formate dehydrogenase
fhs :

Formyl-H4-folate synthase
folD :

Formyl-H4folate cyclohydrolase/methylene-H4folate dehydrogenase
mthfr/acsD :

Methylene-H4folate reductase/corrinoid iron-sulfur protein small subunit fusion
pulE :

Type II secretory pathway ATPase PulE
THF:

Tetrahydrofolate
WL:

Wood Ljungdahl
Declarations
Acknowledgements
Emily Denise Melton, Lex Overmars and Gerard Muyzer are supported by ERC Advanced Grant PARASOL (No. 322551); Dimitry Y. Sorokin was supported by the Gravitation SIAM grant 24002002 and the RFBR grant 16-04-00035. Alla L. Lapidus is supported by the RSF grant 14-50-00069. The work conducted by the U.S. Department of Energy Joint Genome Institute, a DOE Office of Science User Facility, was supported under Contract No. DE-AC02-05CH11231.
Authors' contributions
EDM drafted and wrote the manuscript. DYS, LO, GM, NCK and ALL contributed to the written manuscript. DYS, LO and GM stimulated critical discussions. DS cultured D. alkaliphilus and extracted the DNA. The sequencing and annotation of the genome were performed at the JGI by OC, AC, MP, NI, NS, NCK, TW and all. All authors read and approved the final manuscript.
Competing interests
The authors declare that they have no competing interests.
Open AccessThis article is distributed under the terms of the Creative Commons Attribution 4.0 International License (http://creativecommons.org/licenses/by/4.0/), which permits unrestricted use, distribution, and reproduction in any medium, provided you give appropriate credit to the original author(s) and the source, provide a link to the Creative Commons license, and indicate if changes were made. The Creative Commons Public Domain Dedication waiver (http://creativecommons.org/publicdomain/zero/1.0/) applies to the data made available in this article, unless otherwise stated.
Authors' Affiliations
(1)
Microbial Systems Ecology, Department of Aquatic Microbiology, Institute for Biodiversity and Ecosystem Dynamics, University of Amsterdam, Amsterdam, The Netherlands
(2)
Winogradsky Institute of Microbiology, Research Centre of Biotechnology, RAS, Moscow, Russia
(3)
Department of Biotechnology, Delft University of Technology, Delft, The Netherlands
(4)
Bioscience Division, Department of Energy Joint Genome Institute, Los Alamos National Laboratory, Los Alamos, USA
(5)
Joint Genome Institute, Walnut Creek, USA
(6)
Biological Data Management and Technology Center, Lawrence Berkeley National Laboratory, Berkeley, USA
(7)
Department of Biological Sciences, Faculty of Science, King Abdulaziz University, Jeddah, Saudi Arabia
(8)
Center for Algorithmic Biotechnology, Institute of Translational Biomedicine, St. Petersburg State University, St. Petersburg, Russia