Complete genome sequence of the sulfate-reducing firmicute Desulfotomaculum ruminis type strain (DLT)
Standards in Genomic Sciences
2012
7:7020304
Published: 19 December 2012
Abstract
Desulfotomaculum ruminis Campbell and Postgate 1965 is a member of the large genus Desulfotomaculum which contains 30 species and is contained in the family Peptococcaceae. This species is of interest because it represents one of the few sulfate-reducing bacteria that have been isolated from the rumen. Here we describe the features of D. ruminis together with the complete genome sequence and annotation. The 3,969,014 bp long chromosome with a total of 3,901 protein-coding and 85 RNA genes is the second completed genome sequence of a type strain of the genus Desulfotomaculum to be published, and was sequenced as part of the DOE Joint Genome Institute Community Sequencing Program 2009.
Keywords
anaerobic
motile
sporulating
mesophilic
sulfate-reducer
hydrogen sulfide
incomplete oxidizer
mixotrophic
CSP 2009
Peptococcaceae
Clostridiales
Introduction
Strain DLT (= DSM 2154 = ATCC 23193 = NCIMB 8452) is the type strain of the species Desulfotomaculum ruminis [1], one out of currently 30 species with validly published names in the paraphyletic genus Desulfotomaculum [2,3]. Strain DLT was initially isolated by G. S. Coleman in the 1950s from the rumen of hay-fed sheep [4]. Dissimilatory reduction of sulfate to sulfide in the rumen was first demonstrated by Lewis [5], who dosed fistulated sheep with sulfate and determined the amount of sulfide produced. As high amounts of sulfide may be toxic to animals, bacterial sulfate-reduction in ruminants was a concern due to the presence of sulfate in grass and hay. D. ruminis represented the first pure culture of a sulfate-reducing bacterium isolated from the rumen. The genus name was derived from the Latin words 'de', from, 'sulfur', sulfur, and 'tomaculum', a kind of sausage, meaning 'a sausage-shaped sulfate reducer' [2,6]. The species epithet is derived from the Latin word 'rumen', throat, first stomach (rumen) of a ruminant, meaning of a rumen [1,2]. Here, we present a summary classification and a set of features for D. ruminis strain DLT, together with the description of the complete genomic sequencing and annotation. The complete genome sequence of strain DLT will provide valuable information for defining a more adequate description of the currently paraphyletic genus Desulfotomaculum.
Classification and features
A representative genomic 16S rRNA sequence of D. ruminis DSM 2154T was compared using NCBI BLAST [7,8] under default settings (e.g., considering only the high-scoring segment pairs (HSPs) from the best 250 hits) with the most recent release of the Greengenes database [9] and the relative frequencies of taxa and keywords (reduced to their stem [10]) were determined, weighted by BLAST scores. The most frequently occurring genera were Desulfotomaculum (88.3%), Pelotomaculum (7.9%), Cryptanaerobacter (2.8%) and 'Catabacter' (1.0%) (60 hits in total). Regarding the four hits to sequences from members of the species, the average identity within HSPs was 99.1%, whereas the average coverage by HSPs was 86.1%. Regarding the 41 hits to sequences from other members of the genus, the average identity within HSPs was 93.2%, whereas the average coverage by HSPs was 90.7%. Among all other species, the one yielding the highest score was Desulfotomaculum putei (HM228397), which corresponded to an identity of 94.1% and an HSP coverage of 98.5%. (Note that the Greengenes database uses the INSDC (= EMBL/NCBI/DDBJ) annotation, which is not an authoritative source for nomenclature or classification.) The highest-scoring environmental sequence was EU307084 ('Changes microbial metabolic and along hydrogeochemically variable profile unsaturated horizon soil aggregate clone A Ac-2 12'), which showed an identity of 97.5% and an HSP coverage of 98.4. D. ruminis has not only been found in the rumen of animals, but also in other environments [11,12]. Therefore, the distribution of D. ruminis is not restricted to the rumen of animals. Hence, it is likely that this species enters the digestive tract of ruminants via food contaminated by spores.
Figure
1
shows the phylogenetic neighborhood of
D. ruminis
in a 16S rRNA based tree of type strains. The sequences of the five 16S rRNA gene copies in the genome differ from each other by up to two nucleotides, and differ by up to three nucleotides from the previously published 16S rRNA sequence (Y11572), which contains three ambiguous base calls.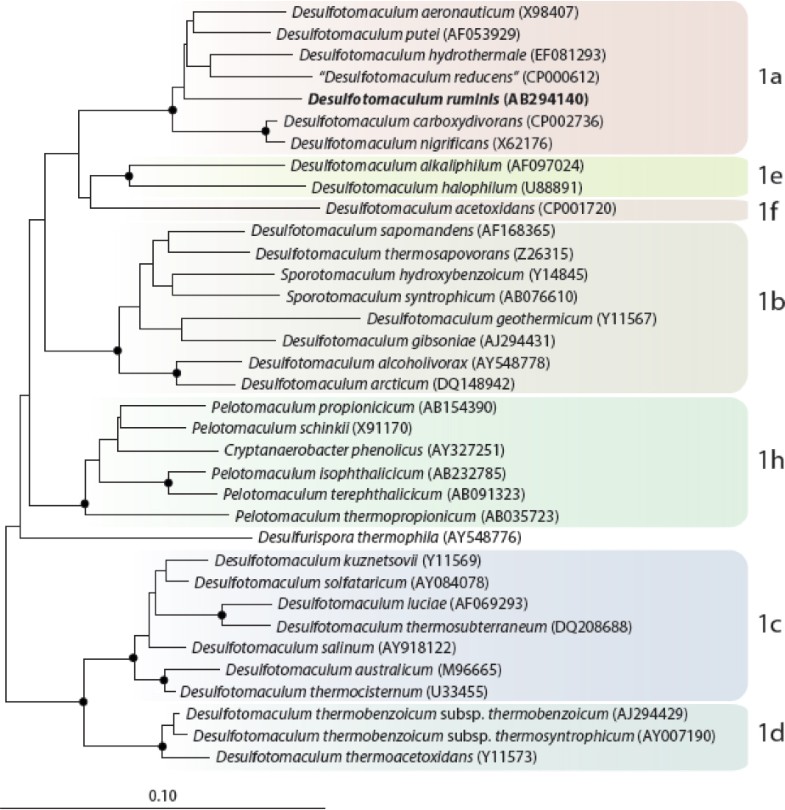 Cells of
D. ruminis
DL
T
are slightly curved rods with rounded ends 2–6 µm in length and 0.5–0.7 µm in width (Table
1
and Figure
2
) [
1
,
4
]. Cells stain Gram-negative and form oval subterminal spores that slightly swell the cells. A slight tumbling motility is due to peritrichous flagellation [
1
]. Strain DL
T
grows optimally at 37°C, but not above 48°C [
1
]. The pH range for growth is 6.0–8.5 with an optimum between pH 6.0 and 7.0 [
4
].
D. ruminis
strains are obligately anaerobic and can grow chemoheterotrophically with lactate, pyruvate, ethanol or alanine as well as mixotrophically with hydrogen or formate as electron donor and acetate as carbon source. In contrast to the distantly related
D. acetoxidans
, strains of
D. ruminis
oxidize substrates incompletely to acetate and cannot grow autotrophically [
4
]. Suitable electron acceptors are sulfate, thiosulfate and sulfite, but not elemental sulfur or nitrate [
1
,
26
]. Fermentative growth with pyruvate as sole substrate is also possible [
26
].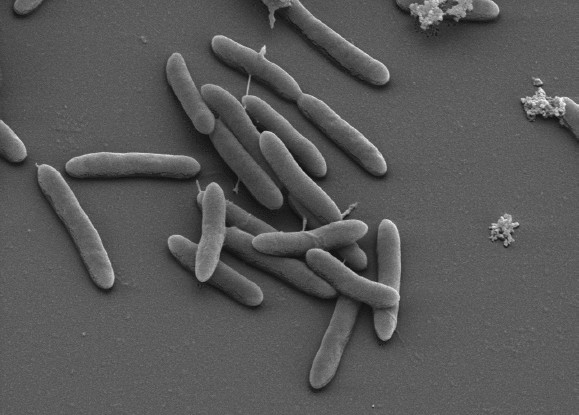 MIGS ID

Property

Term

Evidence code

Current classification

Domain Bacteria

TAS [14]

Phylum Firmicutes

Class Clostridia

Order Clostridiales

Family Peptococcaceae

Genus Desulfotomaculum

Species Desulfotomaculum ruminis

Type strain DL

TAS [1]

Gram stain

negative

TAS [1]

Cell shape

rod-shaped

TAS [1]

Motility

motile

TAS [1]

Sporulation

sporulating

TAS [1]

Temperature range

48°C is the upper limit

TAS [1]

Optimum temperature

37°C

TAS [1]

Salinity

not reported

MIGS-22

Oxygen requirement

obligate anaerobe

TAS [1]

Carbon source

acetate in combination with CO2 and a variety of other organic compounds

TAS [23]

Energy metabolism

mixotrophic, heterotrophic

MIGS-6

Habitat

rumen contents of sheep, fresh water, mud, sea water, soil

TAS [1]

MIGS-15

Biotic relationship

free-living

TAS [1]

MIGS-14

Pathogenicity

none

TAS [1]

Biosafety level

1

TAS [24]

Isolation

rumen of hay-fed sheep

TAS [1]

MIGS-4

Geographic location

Babraham, Cambridgeshire, UK

TAS [4]

MIGS-5

Sample collection time

1955 or before

TAS [4]

MIGS-4.1

Latitude

52.134

TAS [4]

MIGS-4.2

Longitude

0.206

TAS [4]

MIGS-4.3

Depth

not reported

MIGS-4.4

Altitude

not reported
Chemotaxonomy
In cells of D. ruminis cytochromes of the b-type dominate [1], which is a typical trait of sulfate-reducing bacteria belonging to the genus Desulfotomaculum. Respiratory lipoquinones are also present and are comprised mainly of the menaquinone MK-7 and some small amounts of MK-6 [27]. The whole-cell fatty acid pattern of the type strain of D. ruminis was determined by Hagenauer et al. [26], who found a dominance of branched-chain iso- and anteiso-fatty acids in addition to unsaturated fatty acids, whereas saturated unbranched fatty acids were of less importance. The predominant fatty acids were: iso-C17:1 c7, iso-C15:0, iso-C17:0, C17:0 cyc and C16:0. Although, in the study of Hagenauer et al. [26] a large amount of the extracted cellular fatty acids (37.3%) remained unidentified, the fatty acid pattern of D. ruminis can be clearly distinguished from other distantly related Desulfotomaculum species like D. acetoxidans, which has a pattern dominated by straight-chain saturated fatty acids, thus further illustrating the paraphyletic origin of this genus.
Genome sequencing and annotation
Insights into the genome sequence
Declarations
Acknowledgements
We would like to gratefully acknowledge the help of Maren Schröder for growing D. ruminis cultures and Susanne Schneider for DNA extraction (both at DSMZ). The work conducted by the U.S. Department of Energy Joint Genome Institute was supported by the Office of Science of the U.S. Department of Energy under Contract No. DE-AC02-05CH11231, and was also supported by grants CW-TOP 700.55.343 and ALW 819.02.014 of the Netherlands Science Foundation (NWO).
Authors' Affiliations
(1)
Leibniz Institute, DSMZ - German Collection of Microorganisms and Cell Cultures, Braunschweig, Germany
(2)
Laboratory of Microbiology, Wageningen University, Wageningen, The Netherlands
(3)
DOE Joint Genome Institute, Walnut Creek, USA
(4)
Bioscience Division, Los Alamos National Laboratory, Los Alamos, USA
(5)
Oak Ridge National Laboratory, Oak Ridge, USA
(6)
HZI - Helmholtz Centre for Infection Research, Braunschweig, Germany
(7)
Laboratory of Systems and Synthetic Biology, Wageningen University, Wageningen, The Netherlands
(8)
Department of Aquatic Microbiology, Institute for Biodiversity and Ecosystem Dynamics, University of Amsterdam, Amsterdam, The Netherlands
(9)
Department of Microbiology, Bremen Institute for Materials Testing, Bremen, Germany
(10)
Instituto de Tecnologia Quimica e Biologica, Universidade Nova de Lisboa, Oeiras, Portugal
(11)
Wingradsky Institute of Microbiology Russian Academy of Sciences, Moscow, Russia
(12)
Ecole Polytechnique Federale de Lausanne, Lausanne, Switzerland