The 15th Genomic Standards Consortium meeting
Lynn Schriml

,

Ilene Mizrachi

,

Peter Sterk

,

Dawn Field

,

Lynette Hirschman

,

Tatiana Tatusova

,

Susanna Sansone

,

Jack Gilbert

,

David Schindel

,

Neil Davies

,

Chris Meyer

,

Folker Meyer

,

George Garrity

,

Lita Proctor

,

M. H. Medema

,

Yemin Lan

,

Anna Klindworth

,

Frank Oliver Glöckner

,

Tonia Korves

,

Antonia Gonzalez

,

Peter Dwayndt

,

Markus Göker

,

Anjette Johnston

,

Evangelos Pafilis

,

Susanne Schneider

,

K. Baker

,

Cynthia Parr

,

G. Sutton

,

H. H. Creasy

,

Nikos Kyrpides

,

K. Eric Wommack

,

Patricia L. Whetzel

,

Daniel Nasko

,

Hilmar Lapp

,

Takamoto Fujisawa

,

Adam M. Phillippy

,

Renzo Kottman

,

Judith A. Blake

,

Junhua Li

,

Elizabeth M. Glass

,

Petra ten Hoopen

,

Rob Knight

,

Susan Holmes

,

Curtis Huttenhower

,

Steven L. Salzberg

,

Bing Ma

and

Owen White
Standards in Genomic Sciences
2013
8:8010124
Keywords
Database RelateResource Description FrameworkBiosynthetic Gene ClusterLower Common AncestorProgram Session
Standards-enabled Research in Genomics
April 22–24th, 2013
Natcher Conference Center, NIH
April 22–23: GSC15 Plenary and Poster Sessions
April 24: GSC Working groups and GSC Hackathon
April 25–26: GSC15 Satellite Meeting: Genomic Observatories (Smithsonian)
Standards-enabled Research in Genomics
The 15th Genomic Standards Consortium (GSC15) meeting will be held at NIH (Bethesda, Maryland) from April 22–24th. This meeting will highlight the utilization of genome metadata standards for the enhancement of our biological understanding of microbes, the interaction between microbial genomes, human health and disease. GSC15 will provide a forum for standards developers, genome and metagenome researchers and biological database developers to discuss their research, initiate collaborations, join GSC working groups and engage in panel discussions. The conference will include two days of plenary talks featuring GSC projects and community standards efforts along with a keynote speaker, discussion of standards among a government panel and groups discussion panel. Day 3 of GSC15 will include concurrent GSC working groups open to GSC15 participants.
Meeting Logistics
http://www.nih.gov/about/visitor/index.htm All visitors without an NIH ID badge will need to go through a short inspection at the Gateway Center, Bldg 66 area. All bags are inspected and scanned. Please present a government issued ID, driver's license or passport. If your passport is from Syria, Cuba, Iran, or Sudan, you are required to obtain approval 3 weeks prior to the meeting. Contact admin@ncbi.nlm.nih.gov for guidance.
Travel
There are three airports in the area:
Ronald Reagan National Airport (DCA) in Virginia Dulles International Airport (IAD) in Virginia
Baltimore Washington International Airport (BWI) in Maryland
Hotels
A number of hotels are conveniently located near the NIH meeting location [Figure
1
–
5
].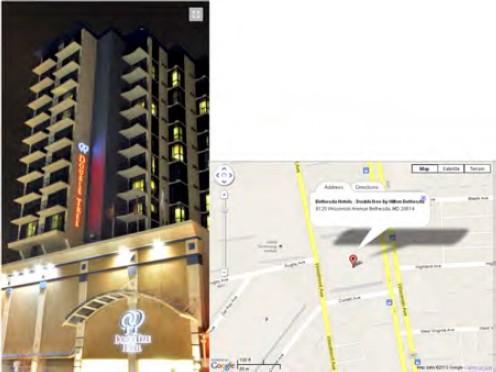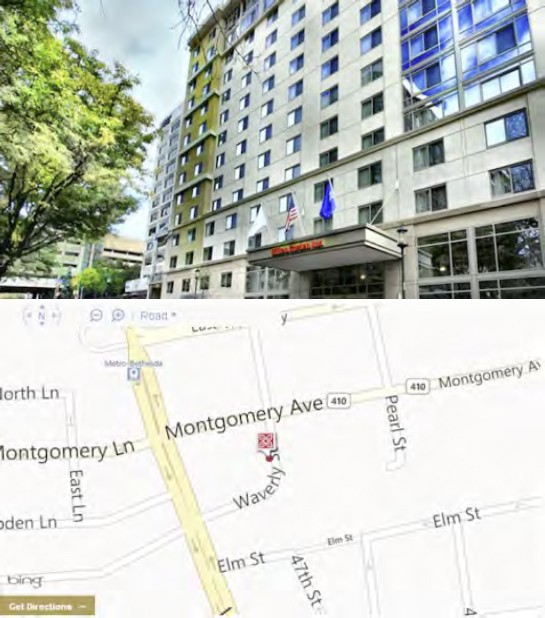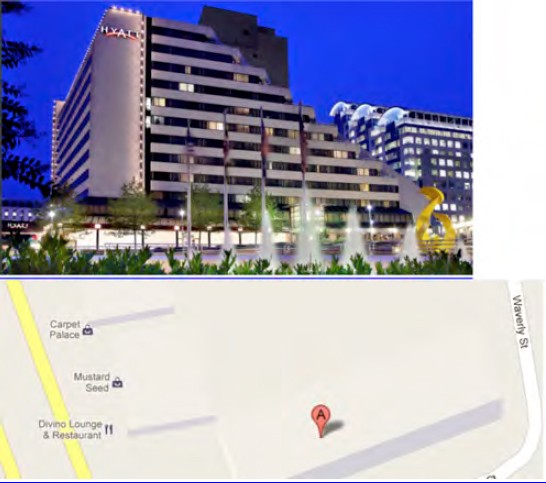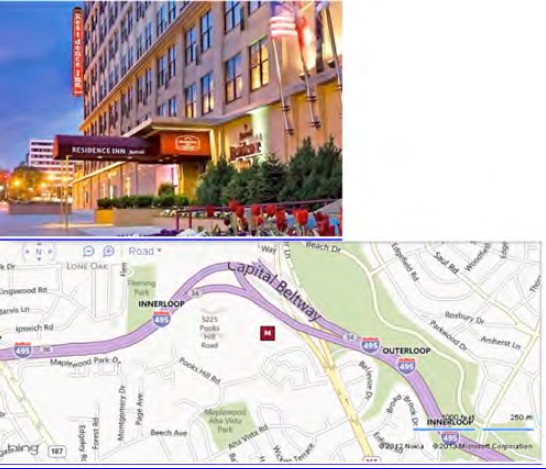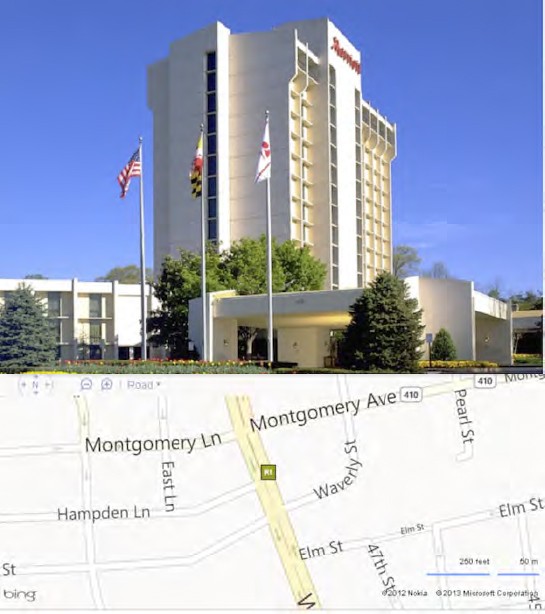 GSC15 Poster presenters
Poster Number, Presenter/Authors, Title
1.

Lita Proctor

The trans-NIH Microbiome Working Group (TMWG), GSC15p01

2.

Yemin Lan, Nivedita Clark, Christopher Blackwood and Gail Rosen

Identifying functional signatures in microorganism genomes related to polymer decomposition, GSC15p03

3.

Michael Vyverman, Bernard De Baets, Veerle Fack and Peter Dawyndt

ALFALFA: a Novel Algorithm for Long Fragment Mapping and Alignment, GSC15p10

4.

Hubert Denise, Peter Sterk, Matt Corbett, Matthew Fraser, Craig McAnulla, Alex Mitchell, Gift Nuka, Sebastien Pesseat, Maxim Scheremetjew and Sarah Hunter

The Metagenomics Resource at the European Bioinformatics Institute, GSC15p13

5.

Daniel Nasko, Jaysheel Bhavsar, Shawn Polson and K. Eric Wommack

Assessing patterns of CRISPR spacer composition using the CASC discovery and validation tool, GSC15p21

6.

Takatomo Fujisawa, Toshiaki Katayama, Shinobu Okamoto, Hiroshi Mori, Yasunori Yamamoto and Yasukazu Nakamura

Development of an ontology for the INSDC Feature Table Definition, GSC15p01

7.

Adam Arkin, Robert Cottingham, Sergei Maslov, Rick Stevens, Thomas Brettin, Dylan Chivian, Paramvir Dehal, Christopher Henry, Folker Meyer, Jennifer Salazar, Doreen Ware, David Weston, Brian Davison and Elizabeth M. Glass

Using Data Standards in KBase: The DOE Systems Biology Knowledgebase,. GSC15p31

8.

Elizabeth M. Glass, Yekaterina Dribinsky, Pelin Yilmaz, Hal Levin, Robert Van Pelt, Doug Wendel, Andreas Wilke, Jonathan Eisen, Sue Huse, Anna Shipanova, Mitch Sogin, Jason Stajich, Rob Knight, Folker Meyer and Lynn Schriml

Meta Data Standards for the Built Environment — MIxS-BE, GSC15p32

9.

Anna Klindworth, Elmar Pruesse, Timmy Schweer, Joerg Pelpies, Christian Quast and Frank Oliver Glöckner

In silico evaluation of primer and primer pairs for 16S ribosomal RNA biodiversity, GSC15p04

10.

Bart Mesuere, Bart Devreese, Griet Debyser, Maarten Aerts, Peter Vandamme and Peter Dawyndt

Unipept: Exploring biodiversity of complex metaproteome samples, GSC15p08

11.

Bing Ma, Arthur Brady, Owen White and Jacques Ravel

Organism-centric approach to study paired metagenome and metatranscriptome profiles of vaginal microbial community, GSC15p42

12.

Peter Sterk: GSC Projects

13.

14.

Anjanette Johnston, John Anderson, Tanya Barrett and Ilene Mizrachi

GSC-Compliance at NCBI, GSC15p11

15.

Evangelos Pafilis, Sune Frankild, Lucia Fanini, Sarah Faulwetter, Christina Pavloudi, Katerina Vasileiadou, Christos Arvanitidis and Lars Juhl Jensen

ENVIRONMENTS: identification of environment descriptive terms in text, GSC15p12

16.

Trish Whetzel

NCBO Technology: Powering Semantically Aware Applications to enable Standards Driven Research, GSC15p22

17.

Marnix Medema, Pelin Yilmaz, Renzo Kottmann, Frank Oliver Glöckner, Rainer Breitling and Eriko Takano

MIBiG: Minimal Information about a Biosynthetic Gene Cluster, GSC15p02