Short genome report
Open Access
Complete genome sequence of Pseudomonas stutzeri strain RCH2 isolated from a Hexavalent Chromium [Cr(VI)] contaminated site
Standards in Genomic Sciences
2017
12:23
Received: 21 June 2016
Accepted: 8 January 2017
Published: 8 February 2017
Abstract
Hexavalent Chromium [Cr(VI)] is a widespread contaminant found in soil, sediment, and ground water in several DOE sites, including Hanford 100 H area. In order to stimulate microbially mediated reduction of Cr(VI) at this site, a poly-lactate hydrogen release compound was injected into the chromium contaminated aquifer. Targeted enrichment of dominant nitrate-reducing bacteria post injection resulted in the isolation of Pseudomonas stutzeri strain RCH2. P. stutzeri strain RCH2 was isolated using acetate as the electron donor and is a complete denitrifier. Experiments with anaerobic washed cell suspension of strain RCH2 revealed it could reduce Cr(VI) and Fe(III). The genome of strain RCH2 was sequenced using a combination of Illumina and 454 sequencing technologies and contained a circular chromosome of 4.6 Mb and three plasmids. Global genome comparisons of strain RCH2 with six other fully sequenced P. stutzeri strains revealed most genomic regions are conserved, however strain RCH2 has an additional 244 genes, some of which are involved in chemotaxis, Flp pilus biogenesis and pyruvate/2-oxogluturate complex formation.
Keywords
Pseudomonas Nitrate reductionChromiumHanford 100H
Introduction
Hexavalent Cr(VI) is a highly toxic and mobile contaminant in the environment. At the DOE site in Hanford, WA, Cr(VI) concentrations reached as high as 50 ppm as a result of nuclear weapon production waste released into the groundwater and soil. In order to reduce Cr(VI) to non-toxic immobilized Cr(III), the bioremediative strategy at the site has been to stimulate indigenous microorganisms [1] by injecting environmentally safe, food quality polylactate ester Hydrogen Release Compound. The slow release electron donor induced biologically mediated reduction of Cr(VI) to Cr(III) by indigenous microorganisms, and as a result, Cr(IV) concentrations were reduced to below 50 ppb in all parts of the Hanford 100 H site [1]. Some group of organisms including Pseudomonadaceae were enriched concomitant to decrease in Cr(VI) concentrations after HRC injection, and continued to remain high [1]. Pseudomonas stutzeri strain RCH2, was isolated from a monitoring well post injection.
Pseudomonas spp. are well-characterized heterotrophs known to degrade several hydrocarbons [2–5], and reduce metals such as Cr(VI) [6–9]. They have commonly been detected in several DOE contaminated sites [10–13] including Uranium contaminated Oakridge Field Research Center [14, 15]. Prolific cultivation of Pseudomonas spp. from such unique contaminated environments is imperative in elucidating the metabolic potential, biochemical and physiological characteristics and the genetic determinants of key pathways of this ubiquitous group of bacteria in the environment. The genome sequence of RCH2 allows for detailed examination of this and closely related microbes in response to environmental perturbations at the genetic level, and provides a basis for investigating response, adaptation and evolution in presence of metal contaminants [16].
Organism features
Classification and features
Enrichments were initiated in Minimal Fresh Water medium [17] with 10 mM acetate as the sole electron donor and 10 mM nitrate as the electron acceptor. All enrichments were incubated in the dark at 30 °C. Periodic transfers of positive enrichments as identified by microscopy or visual turbidity, were made into fresh media. After 5 such transfers, a pure culture of strain RCH2 was obtained by the agar shake tube method [18, 19]. For routine culturing, strain RCH2 was grown in MFW medium under anaerobic conditions, using either lactate or acetate as electron donor and nitrate as electron acceptor. All culturing was done in sealed serum vials with N2:CO2 gas (80:20) in the headspace, as the medium contained 30 mM bicarbonate buffer.
For initial genotyping, gDNA was extracted using the MoBio UltraClean Microbial DNA Isolation Kit (MoBio Inc, Carlsbad, CA). PCR amplification was carried out using universal bacterial 16S ribosomal RNA gene (16S rRNA) primers 1492R and 27 F in 50 μl reactions. The small subunit ribosomal RNA gene was sequenced by Sanger sequencing using universal primers 8 F and 1492R [25] at University of California, Berkeley sequencing facility. 16S rRNA sequence analysis places strain RCH2 in the family Pseudomonadaceae .
Cells in exponential phase of strain RCH2 are rod shaped, approximately 2 μm long and 0.25-0.3 μm wide (Figs.
1
and
2
). Anaerobically,
P. stutzeri
strain RCH2 grew optimally in MFW medium at 37 °C. While best growth was observed at pH 7.2, strain RCH2 could grow at pH between 6.5–8.0. Growth was observed to decrease with increasing salinity of the medium. Strain RCH2 was tested with and can utilize 10 mM acetate, lactate, fumarate, succinate, pyruvate, glucose and sucrose as electron donors and carbon source while grown under nitrate-reducing conditions. Strain RCH2 can also grow under aerobic conditions as is typical of
Pseudomonas
spp. Strain RCH2 could also grow in complex media such as LB and R2A broth under aerobic conditions. Strain RCH2 reduced Cr(VI) when tested with washed cell suspension. Briefly, strain RCH2 was grown in MFW medium to mid-log phase (optical density of 0.2–0.3 at 600 nm), with lactate as electron donor and nitrate as electron acceptor. Cells were collected by centrifugation, and the cell pellet washed with 30 mM phosphate buffer. Centrifugation and washing were repeated to minimize potential carryover of nitrate in the Cr(VI) reduction experiments. The cell pellet was then resuspended in phosphate buffer and sealed in anaerobic serum vials. To all the vials, 200 μM potassium dichromate was added as electron acceptor, and 10 mM lactate was added as the electron donor.
Electron
donor addition was left out of the control treatments. The vials were incubated in the dark at 32 °C. Samples were withdrawn periodically for analysis of Cr(VI). Changes in Cr(VI) concentration was determined colorimetrically at 540 nm using the diphenyl carbazide (DPC) assay [
24
]. The cell suspension experiment demonstrated that after 5 hours, almost 135 μM Cr(VI) was readily reduced by the active cells of strain RCH2 (Fig.
3
). In the absence of lactate as the electron donor in the controls, almost no Cr(VI) reduction occurred after 30 min. The reduction of Cr(VI) in the initial period of time could be attributed to abiotic Cr(VI) reduction or carry over lactate from the growth culture despite the washing of the cell pellet.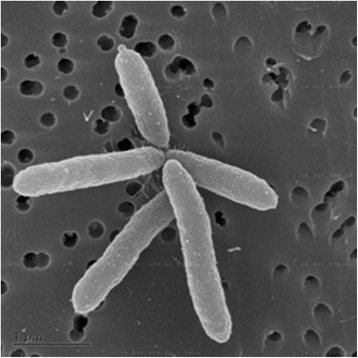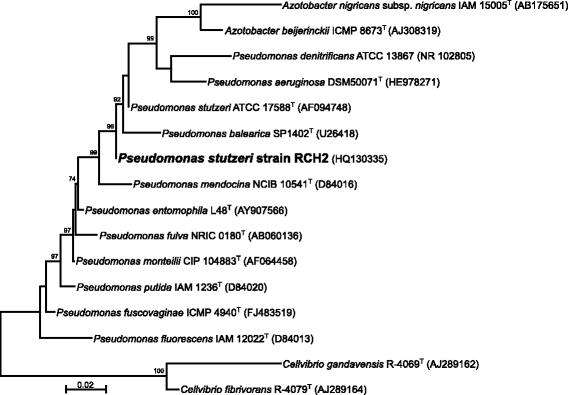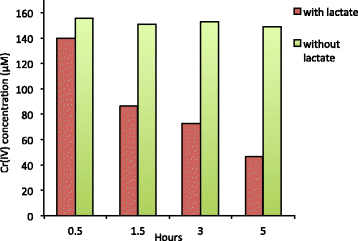 Genome sequencing information
Genome properties
The genome consists of one circular chromosome of 4,575,057 bp (62.49% GC content) and includes 3 circular plasmids of 12,763 bp, 9,865 bp and 2,804 bp for a total genome size of 4,600,489 bp. There are 4322 protein-coding genes of which 3593 genes were assigned to a putative function and the 729 remaining genes were annotated as hypothetical proteins. The properties and the statistics of the genome are summarized in Tables
3
,
4
and
5
and Fig.
4
.
Table 3
Summary of genome: 1 chromosome and 3 plasmids
| Label | Size (Mb) | Topology | INSDC identifier | RefSeq ID |
| --- | --- | --- | --- | --- |
| Chromosome | 4.575 | circular | CP003071.1 | NC_019936.1 |
| Plasmid pPSEST01 | 0.013 | circular | CP003072.1 | NC_019937.1 |
| Plasmid pPSEST02 | 0.010 | circular | CP003073.1 | NC_019938.1 |
| Plasmid pPSEST03 | 0.003 | circular | CP003074.1 | NC_019939.1 |
Table 4
Genome statistics for Pseudomonas stutzeri strain RCH2
| Attribute | Value | % of Total |
| --- | --- | --- |
| Genome size (bp) | 4,600,489 | 100.00 |
| DNA coding (bp) | 4,159,553 | 90.42 |
| DNA G + C (bp) | 2,874,963 | 62.49a |
| DNA scaffolds | 4 | 100.00 |
| Total genes | 4,412 | 100.00 |
| Protein coding genes | 4,322 | 97.96 |
| RNA genes | 90 | 2.04 |
| Pseudo genes | 57 | 1.29b |
| Genes in internal clusters | NA | |
| Genes with function prediction | 3,593 | 81.44 |
| Genes assigned to COGs | 3,195 | 72.42 |
| Genes with Pfam domains | 3,786 | 85.81 |
| Genes with signal peptides | 477 | 10.81 |
| Genes with transmembrane helices | 1,118 | 25.34 |
| CRISPR repeats | NA | |
Table 5
Number of genes associated with the general COG functional categories
| Code | Value | % of totala | Description |
| --- | --- | --- | --- |
| J | 227 | 6.27 | Translation, ribosomal structure and biogenesis |
| A | 1 | 0.03 | RNA processing and modification |
| K | 237 | 6.55 | Transcription |
| L | 129 | 3.56 | Replication, recombination and repair |
| B | 1 | 0.03 | Chromatin structure and dynamics |
| D | 39 | 1.08 | Cell cycle control, Cell division, chromosome partitioning |
| V | 83 | 2.29 | Defense mechanisms |
| T | 243 | 6.71 | Signal transduction mechanisms |
| M | 216 | 5.97 | Cell wall/membrane biogenesis |
| N | 158 | 4.37 | Cell motility |
| U | 78 | 2.16 | Intracellular trafficking and secretion |
| O | 155 | 4.28 | Posttranslational modification, protein turnover, chaperones |
| C | 251 | 6.94 | Energy production and conversion |
| G | 169 | 4.67 | Carbohydrate transport and metabolism |
| E | 285 | 7.88 | Amino acid transport and metabolism |
| F | 85 | 2.35 | Nucleotide transport and metabolism |
| H | 171 | 4.73 | Coenzyme transport and metabolism |
| I | 172 | 4.75 | Lipid transport and metabolism |
| P | 241 | 6.66 | Inorganic ion transport and metabolism |
| Q | 91 | 2.51 | Secondary metabolites biosynthesis, transport and catabolism |
| R | 302 | 8.34 | General function prediction only |
| S | 230 | 6.36 | Function unknown |
| - | 1217 | 27.58 | Not in COGs |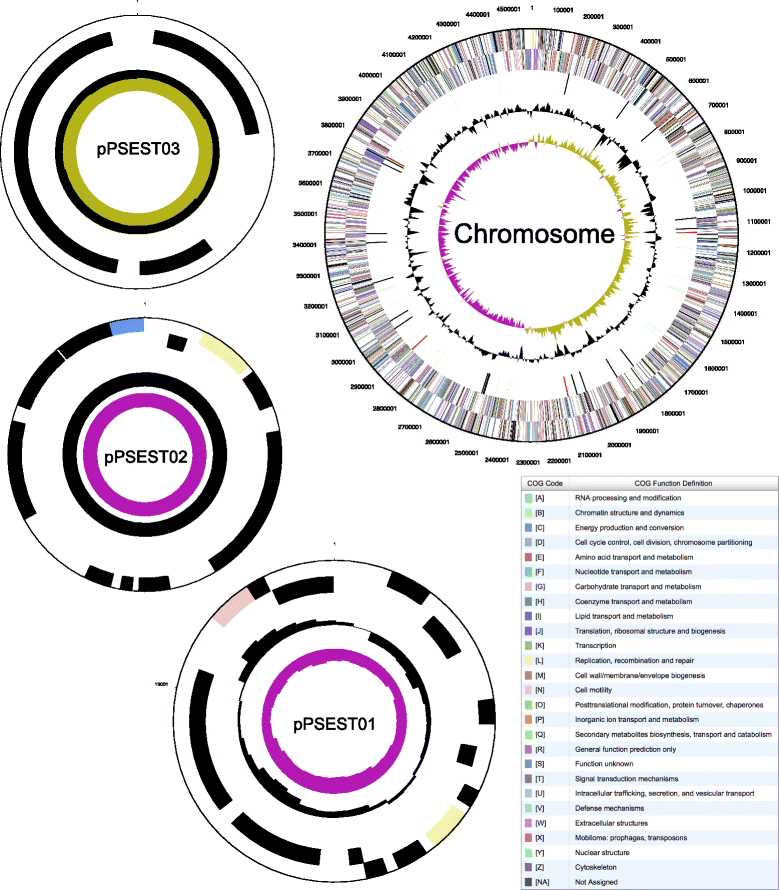 Insights from the genome sequence
Global genomic comparison of six fully sequenced
P. stutzeri
strains (RCH2, A1501,
ATCC 17588
,
CCUG 29243
,
DSM 4166
,
DSM 10701
) demonstrated that most of the genomic regions are conserved but there are some differences between genome of RCH2 and other genomes (Fig.
5
). We identified genes that are differentially present in RCH2 and other fully sequenced
P. stutzeri
strains by using "Compare two proteomes" tool of DOE Systems Biology Knowledgebase [
www.kbase.us
]. For 4231 proteins encoded by chromosomal genes of RCH2 strain, there are 3696, 3677, 3534, 3526 and 3199 orthologous genes in
CCUG 29243
,
DSM 4166
, A1501,
ATCC 17588
and
DSM 10701
strains, respectively. No orthologs for plasmid genes of RCH2 were found in five other
P. stutzeri
strains. We identified 244
P. stutzeri
genes that are present in RCH2 chromosome but absent in all other fully sequenced strains. Approximately 48% of those genes encode hypothetical proteins. Particularly noticeable are RCH2-specific gene clusters encoding chemotaxis (Psest_0653-Psest_0662), pyruvate/2-oxoglutarate complex (Psest_2217-Psest_2220) and Flp pilus biogenesis (Psest_2616-Psest_2630) proteins (Fig.
5
). We identified 18 strain-specific genes encoding transcriptional regulators, thus the regulatory network of
P. stutzeri
RCH2 may differ significantly from closely related bacteria.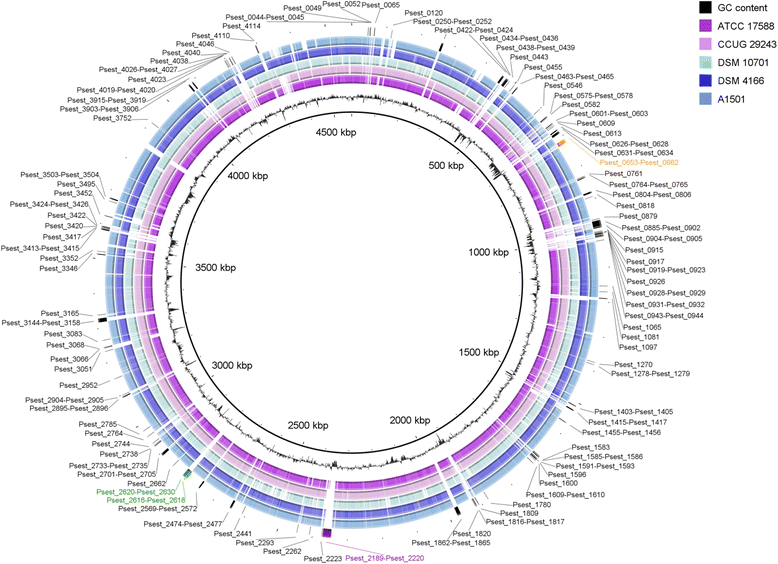 Extended insights
We searched for regulatory interactions in P. stutzeri strain RCH2 using an automated conservative propagation procedure described earlier [50]. By comparison with the RegPrecise database, this procedure identified 27 regulons in P. stutzeri RCH2 genome. Of those regulons, 11 contain genes for central carbon metabolism and utilization of various carbon sources. Other regulatory systems control metabolism of amino acids (MetR, PhhR), nitrogen (NtrC) and phosphonate (PhnF), biosynthesis of biotin (BirA), lipopolysaccharide (GlmR) and nucleotides (NrdR, RutR), metal homeostasis (CadR, CueR, Zur), DNA repair (LexA) and biogenesis of iron-sulfur clusters (IscR). At the same time, P. stutzeri strain RCH2 lacks several transcription factors conserved in various Gammaproteobacteria , like PdxR (regulator of pyridoxine biosynthesis), FabR (regulator of fatty acid biosynthesis) and SoxR (regulator of superoxide stress response).
Conclusion
Pseudomonas stutzeri strain RCH2 isolated from chromium-contaminated aquifer, is a complete denitrifier that can couple nitrate reduction to oxidation of several organic carbon. When supplemented with lactate, robust culture of strain RCH2 reduces Cr(VI) rapidly and this feature contributes to the versatility of this organism to survive in such chromium(VI) contaminated areas. The genome of strain RCH2 reveals differences when compared to closely related strains, and contains an additional 244 genes, mostly of unknown function. Clusters that are specific to strain RCH2 include chemotaxis and Flp pilus biogenesis and these clusters are absent from the five closely related strains examined. The genome sequence of strain RCH2 will assist in further research into the underlying mechanisms of adaption and persistence in metal and/or nitrate contaminated sites.
Abbreviations
DOE:

Department of Energy
gDNA:

Genomic DNA
JGI:

Joint Genome Institute
NCBI:

National Center for Biotechnology Information (Bethesda, MD, USA)
RDP:

Ribosomal Database Project (East Lansing, MI, USA)
Declarations
Acknowledgements
The work conducted at Lawrence Berkeley National Lab by ENIGMA- Ecosystems and Networks Integrated with Genes and Molecular Assemblies (http://enigma.lbl.gov), a Scientific Focus Area Program) and at the Joint Genome Institute was supported by the Office of Science, Office of Biological and Environmental Research, of the U.S. Department of Energy under Contract No. DE-AC02-05CH1123. The work conducted by the U.S. Department of Energy Joint Genome Institute is supported by the Office of Science of the U.S. Department of Energy under Contract No. DE-AC02-05CH11231.
Authors' contributions
RC isolated the organism and performed laboratory experiments. RC, HW and RW drafted the manuscript. RC, HW, PD, LG, AK, PN, RW, APA, TCH sequenced, assembled and annotated the genome. MZ and MA performed the SEM studies. All authors read and approved the final manuscript.
Competing interests
The authors declare that they have no competing interests.
Open AccessThis article is distributed under the terms of the Creative Commons Attribution 4.0 International License (http://creativecommons.org/licenses/by/4.0/), which permits unrestricted use, distribution, and reproduction in any medium, provided you give appropriate credit to the original author(s) and the source, provide a link to the Creative Commons license, and indicate if changes were made. The Creative Commons Public Domain Dedication waiver (http://creativecommons.org/publicdomain/zero/1.0/) applies to the data made available in this article, unless otherwise stated.
Authors' Affiliations
(1)
Lawrence Berkeley National Laboratory, Berkeley, USA
(2)
University Of Tennessee, Knoxville, USA
(3)
Department of Energy Joint Genome Institute, Walnut Creek, USA