Short genome report

Open Access
Complete genome sequence of Paenibacillus yonginensis DCY84T, a novel plant Symbiont that promotes growth via induced systemic resistance
Standards in Genomic Sciences
2017
12:63
Received: 7 March 2017
Accepted: 27 September 2017
Published: 13 October 2017
Abstract
This article reports the full genome sequence of Paenibacillus yonginensis DCY84T (KCTC33428, JCM19885), which is a Gram-positive rod-shaped bacterium isolated from humus soil of Yongin Forest in Gyeonggi Province, South Korea. The genome sequence of strain DCY84T provides greater understanding of the Paenibacillus species for practical use. This bacterium displays plant growth promotion via induced systemic resistance of abiotic stresses.
Keywords
Paenibacillus yonginensis DCY84T
Genome
PacBio
Plant growth promoting rhizobacteria (PGPR)
Introduction
Various Paenibacillus species constitute a large group of facultative anaerobic endospore-forming Gram-positive bacteria that are extensively distributed in nature. Ash et al. proposed that members of 'group 3' within the genus Bacillus should be transferred to the genus Paenibacillus , for which they proposed Paenibacillus polymyxa as the type species [1] Since that time, 174 different type species have been described.
Members of the genus Paenibacillus are well known as PGPR, together with Azotobacter , Azospirillum , Pseudomonas , Acetobacter , and Burkholderia [2]. While many new species from the genus Paenibacillus have been reported [3], the type species Paenibacillus polymyxa [4] is considered a PGPR that is widely used in sustainable agriculture and environmental remediation because of its multiple functions [2, 5]. Coupled with many plant species, some Paenibacillus species have been developed as biofertilizers or biocontrol agents and have been used effectively in the control of plant-pathogenic fungi, bacteria, and nematodes [5–7]. P. yonginensis DCY84T was isolated from a decomposed humus mixture in South Korea and its plant growth promotion traits have been characterized in vitro [8]. This strain is capable of inducing the defense response of Arabidopsis against several abiotic stresses [9]. Genome sequencing of P. yonginensis DCY84T was conducted to obtain additional insights into the physiological characteristics involved in microbe-plant interactions and to facilitate better understanding of the molecular basis of these traits.
Organism information
Classification and features
Paenibacillus yonginensis
DCY84
T
was isolated from a decomposed humus mixture collected from Yongin province. It is a Gram-positive bacterium that can grow on Tryptic soy broth agar at 28 °C. Cells of strain DCY84
T
are rod-shaped with a diameter ranging from 0.7–0.9 μm and length ranging from 3.4 to 4.7 μm. Growth occurs under aerobic conditions with an optimum growth temperature at 25–30 °C and a temperature range of 15–40 °C, general features of strain DCY84
T
were presented in Table
1
. Phylogenetic tree highlighting the position of
Paenibacillus yonginensis
DCY84
T
and phylogenetic inferences were obtained using the maximum-likelihood method (Fig.
1
). Cell morphology was examined using scanning electron microscopy (Fig.
2
).
Table 1
Classification and general features of Paenibacillus yonginensis DCY84T
| MIGS ID | Property | Term | Evidence Code |
| --- | --- | --- | --- |
| | Classification | Domain Bacteria | TAS [17] |
| | | Phylum Firmicutes | |
| | | Class Bacilli | TAS [20] |
| | | Order Bacillales | |
| | | Family Paenibacillaceae | |
| | | Genus Paenibacillus | TAS [15] |
| | | Species Paenibacillus yonginensis | |
| | | Strain DCY84T | |
| | Gram stain | positive | IDA |
| | Cell shape | rod | IDA |
| | Motility | motile | IDA |
| | Sporulation | spore production | IDA |
| | Temperature range | 15–40 °C | IDA |
| | Optimum temperature | 30 °C | IDA |
| | pH range; Optimum | 5–9; 8 | IDA |
| | Carbon source | D-Xylose, D-ribose, D-glucose and others | TAS [8] |
| MIGS-6 | Habitat | humus soil | IDA |
| MIGS-6.3 | Salinity | 0.5–4.5% NaCl | IDA |
| MIGS-22 | Oxygen requirement | Aerobic | IDA |
| | Carbon source | glucose, lactose | TAS [8] |
| MIGS-15 | Biotic relationship | Free-living | IDA |
| MIGS-14 | Pathogenicity | Non-pathogenic | NAS |
| MIGS-13 | Source material identifiers | KCTC 33428T, JCM 19885T | TAS [8] |
| MIGS-4 | Geographic location | South Korea: Gyeonggi province | IDA |
| MIGS-5 | Sample collection | September 2013 | IDA |
| MIGS-4.1 | Latitude | 37.314 N | IDA |
| MIGS-4.2 | Longitude | 127.268 W | IDA |
| MIGS-4.4 | Altitude | 131.37 m | IDA |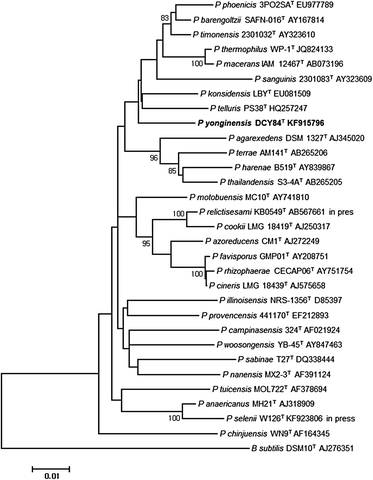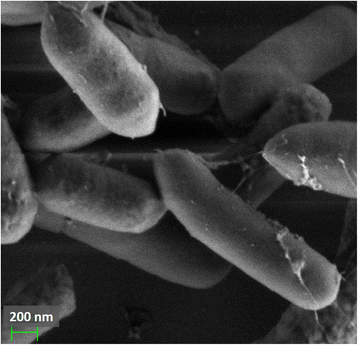 Genome sequencing information
Insights from the genome sequence
The completed
P. yonginensis
DCY84
T
genome consists of a single circular chromosome of 4,985,901 bp, with a GC content of 51.01%, which is similar to most
Paenibacillus
strains (45 – 54%) as reported previously [
12
] (Fig.
4
). The genome size of the strain DCY84
T
(4.985 Mb) is smaller than the other sequenced members of genus
Paenibacillus
including
P. polymyxa
CF05 (5.76 Mb), and
P. mucilaginosus
3016 (8.74 Mb) [
13
]. Full genome of DCY84
T
was annotated by following NCBI prokaryotic genome annotation pipeline [
14
]. A total of 4498 genes were predicted for the genome, including 4233 coding sequences (94.1% of total genes) and 147 pseudo genes. Nucleotide content and gene count levels of the chromosome were summarized in Table
4
. More detail annotation of the strain DCY84
T
was available in Additional file
2
: Table S5. Most of selected
Paenibacillus
strain was reported to have plant growth promoting factor traits. The summary features of DCY84
T
and referred strains are showed on Additional file
1
: Table S1 below, including the genome accession number, genome size, GC content, annotation information, protein, Gene, Pseudo gene. The COGs analysis of strain DCY84
T
and other closely related
Paenibacillus
strains was provided on Additional file
1
: Table S2 (direct plant growth promoting factors) and Additional file
1
: Table S3 (indirect plant growth promoting factors). The genome of
P. yonginensis
DCY84
T
and
P. polymyxa
M1 were visualized in Additional file
3
: Figure S1 by the comparison using the Artemis software and ACT [
15
]. Strain DCY84
T
increased nutrient availability by producing several hydrolyzing enzymes, amino acid transporter proteins (Additional file
1
: Table S4). Moreover, Strain DCY84
T
treatment can induce plant defense mechanism mediated by ABA signal under salinity stress.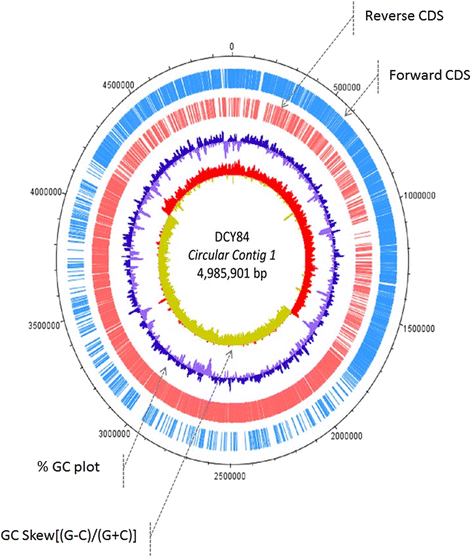 Table 4
Genome statistics
| Attribute | Value | % of Total |
| --- | --- | --- |
| Genome size (bp) | 4,985,901 | 100.0 |
| DNA coding (bp) | 4,267,050 | 85.6 |
| DNA G + C (bp) | 2,543,529 | 51.0 |
| DNA scaffolds | 1 | 100.0 |
| Total genes | 4498 | 100.0 |
| Protein coding genes | 4233 | 94.1 |
| RNA genes | 118 | 2.6 |
| Pseudo genes | 121 | 2.7 |
| Genes in internal clusters | 792 | 17.6 |
| Genes with function prediction | 4380 | 97.4 |
| Genes assigned to COGs | 3378 | 75.1 |
| Genes with Pfam domains | 2661 | 59.2 |
| Genes with signal peptides | 295 | 6.6 |
| Genes with transmembrane helices | 1197 | 26.6 |
| CRIPSR repeats | 4 | – |
Extended insights
Genome analysis showed that P. yonginensis DCY84T contained many genes related to the stress response, such as IAA, choline, glutamate decarboxylase and malate transporters, potassium uptake protein, heat shock proteins, chaperone proteins, and sugar transporters. These genes most likely allow the strain to cope with different environmental stresses. Experimentation and additional analysis of these genes may help to elucidate the mechanisms mediating the stress response and facilitate the development of P. yonginensis DCY84T as a biofertilizer. When the strain DCY84T was used as a treatment for early sprouting rice seeds, several genes responsible for primary metabolism were upregulated in the rice root, which could be related to PGPR. These results indicate that P. yonginensis DCY84T might have the potential for application in industrial biotechnology as a producer of miscellaneous hydrolases.
This is the first report describing the genome sequence of P. yonginensis DCY84T. When coated on sprouting rice seeds or seedlings directly on paddy soil, strain DCY84T and silica zeolite complex were shown to enhance rice yield and also increase GABA content in brown rice. Treatment was also shown to induce systemic stress resistance responses in rice and Arabidopsis under heavy metal and salty conditions. Furthermore, the sequence of P. yonginensis DCY84T provides useful information and may contribute to agricultural applications of Paenibacillus genera in practical biotechnology. Rice yield was affected by the amount of strain DCY84T administered during the early sprouting stage. Silica zeolite complex and strain DCY84T treatment inhibited the occurrence of fungal infection, and also enhanced rice quality. Silica zeolite complex and two treatments with strain DCY84T resulted in the highest head rice levels (86.8%) compared to a one-time treatment of DCY84T (67.9%), and without strain DCY84T treatment (46.4%). The PGPR treatment enhanced head rice levels by 40.4% [16]. Strain treatment also enhanced nitrogen uptake and increased levels of stored nitrogen in the rice grain, indicating that the strain DCY84T enhanced plant nitrogen utilization with less nitrogen fertilizer application. The most important parameters for economic rice value are head rice rate and good appearance; strain DCY84T treatment enhanced both the rice quality and reduced commercial nitrogen fertilizer usage.
Conclusion
The DCY84T strain was isolated from a decomposed humus mixture. Phylogenetic analysis based on the 16S rRNA gene confirmed its affiliation to the genus Paenibacillus . G + C content, COGs, and average nucleotide identities are presented. The genomic features of strain DCY84T are consistent with the plant growth promoting activity of this strain, including IAA production, phosphate solubilizing activity, and siderophores production. In addition, DCY84T induced systemic stress resistance mechanisms in rice and Arabidopsis under heavy metal and salty conditions.
Abbreviations
bdhA :

2,3-butanediol synthesis
COGs:

Clusters of Orthologous Groups of proteins
HGAP:

Hierarchical Genome Assembly Process
IAA:

Indole-3-acetic acid
iaaM :

Tryptophan monooxygenase
ORFs:

Open Reading Frames
PGPR:

Plant Growth Promoting Rhizobacteria
SMRT:

Single Molecule, Real-Time
Declarations
Acknowledgements
We appreciated to the company, Saturn Bio Tech for rice field trials, they supported for application of the strain DCY84 as bio fertilizer in reclaimed paddy soil.
Funding
This study was supported by a grant from the Next-Generation BioGreen 21 ("PJ012034"), Rural Development Administration, in Republic of Korea.
Authors' contributions
YJK designed the study, carried out the genome analysis, and drafted the manuscript. JS performed DNA isolation, electron microscopy, the phylogenetic analysis for taxonomic study and corrected the manuscript. JWS and CHK carried out the sequencing and helped to draft the manuscript. ESC and SS participated in the study design. DCY coordinated. All authors read and approved the final manuscript.
Competing interests
The authors declare that they have no competing interests.
Publisher's Note
Springer Nature remains neutral with regard to jurisdictional claims in published maps and institutional affiliations.
Open AccessThis article is distributed under the terms of the Creative Commons Attribution 4.0 International License (http://creativecommons.org/licenses/by/4.0/), which permits unrestricted use, distribution, and reproduction in any medium, provided you give appropriate credit to the original author(s) and the source, provide a link to the Creative Commons license, and indicate if changes were made. The Creative Commons Public Domain Dedication waiver (http://creativecommons.org/publicdomain/zero/1.0/) applies to the data made available in this article, unless otherwise stated.
Authors' Affiliations
(1)
Graduate School of Biotechnology, College of Life Science, Kyung Hee University, Yongin, South Korea
(2)
Lab Genomics Co. Ltd, Jinju, South Korea
(3)
Division of Applied Life Science and PMBBRC, Gyeongsang National University, Jinju, South Korea