Complete genome sequence of the melanogenic marine bacterium Marinomonas mediterranea type strain (MMB-1T)
Standards in Genomic Sciences
2012
6:6010063
Abstract
Marinomonas mediterranea MMB-1T Solano & Sanchez-Amat 1999 belongs to the family Oceanospirillaceae within the phylum Proteobacteria. This species is of interest because it is the only species described in the genus Marinomonas to date that can synthesize melanin pigments, which is mediated by the activity of a tyrosinase. M. mediterranea expresses other oxidases of biotechnological interest, such as a multicopper oxidase with laccase activity and a novel L-lysine-epsilon-oxidase. The 4,684,316 bp long genome harbors 4,228 protein-coding genes and 98 RNA genes and is a part of the Genomic Encyclopedia of Bacteria and Archaea project.
Keywords
Gram-negativemarinemelaninlaccasetyrosinaselysine oxidase
Introduction
Strain MMB-1T (= ATCC 700492T = CECT 4803T) is the type strain of Marinomonas mediterranea, which belongs to the order Oceanospirillales within the class Gammaproteobacteria. The number of recognized species in the genus Marinomonas has increased in recent years and currently there are 20 species described [1–3]. M. mediterranea MMB-1T was isolated from a seawater sample [4,5]. Recently, it has been shown that this species forms part of the microbiota of the seagrass Posidonia oceanica [2]. In spite of the increasing number of Marinomonas species described, M. mediterranea has two features that have not been seen in any other species of this genus; it synthesizes melanin pigments from L-tyrosine, in a process catalyzed by a tyrosinase, and it expresses a multicopper oxidase with laccase activity [6,7]. Here we present a summary classification and a set of features for M. mediterranea MMB-1T, together with the description of the complete genomic sequencing and annotation.
Organism information
M. mediterranea
MMB-1
T
contains seven copies of the 16S rRNA gene. Of these, four were identical to each other, and hence they were considered as representative of this species. One of the copies differs from the others by the insertion of two nucleotides. Apart from that, the seven copies only show differences in two other positions. The representative 16S rRNA sequence only differs by a maximum of 4 nucleotides from the previously published 16S RNA sequence (AF063027), including two differences that correspond to ambiguous base calls. The phylogenetic neighborhood of
M. mediterranea
MMB-1
T
in a tree based on 16S rRNA sequences is shown in Figure
1
.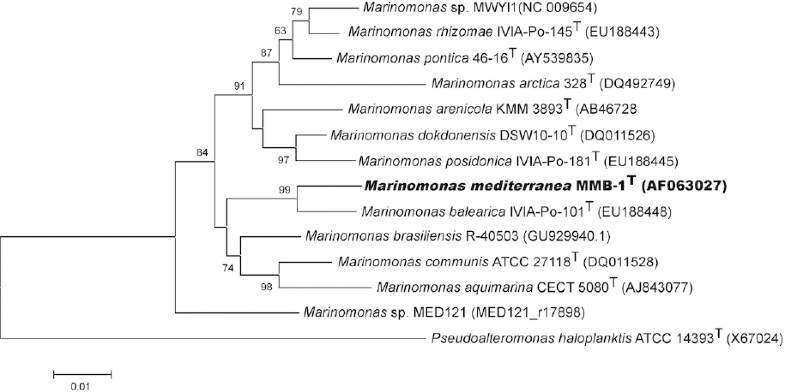 The cells of
M. mediterranea
MMB-1
T
are generally rod-shaped with rounded ends with cell lengths and widths ranging from 1.3 to 2.0 and 0.6 to 0.7 µm respectively during exponential phase (Figure
2
). Cells tend to be shorter during stationary phase. Strain MMB-1
T
is motile by a single polar flagellum [
9
] (Table
1
). Electron microscopy revealed that strain MMB-1
T
synthesizes R-bodies, which are highly organized cytoplasmic structures that are considered to be related to the presence of defective prophages [
20
,
21
]. On complex media, such as marine 2216 agar, colonies are brown to black, due to the synthesis of melanin pigments (4). Na
+
is required for growth of
M. mediterranea
MMB-1
T
, which can tolerate NaCl concentrations in the range of 1–5%. The strain grows over the range of 15–30 °C, is strictly aerobic and chemoorganotrophic and can hydrolyze gelatin and Tween80 but not starch. It utilizes D-glucose, D-mannose, D-fructose, sucrose, D-sorbitol, glycerol,
L
-glutamate, citrate, succinate, malate and acetate as carbon sources. Strain MMB-1
T
is sensitive to ampicillin (100 µg/ml), gentamicin (10 µg/ml), kanamycin (40 µg/ml), rifampicin (50 µg/ml) and tetracycline (10 µg/ml).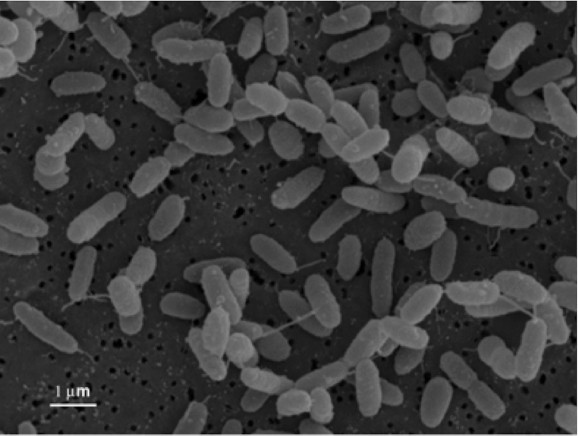 Table 1.
Classification and general features of Marinomonas mediterranea MMB-1T according to the MIGS recommendations.
MIGS ID

Property

Term

Evidence codea

Current classification

Domain Bacteria

TAS [10]

Phylum Proteobacteria

TAS [11]

Class Gammaproteobacteria

Order Oceanospirillales

Family Oceanospirillaceae

Genus Marinomonas

Species Marinomonas mediterranea

TAS [5]

Type strain MMB-1T

TAS [5]

Gram stain

Negative

TAS [5]

Cell shape

Rod-shaped

TAS [5]

Motility

Single polar flagellum

TAS [5]

Sporulation

none

TAS [5]

Temperature range

15°C–30°C

IDA

Optimum temperature

25°C

IDA

Carbon source

Carbohydrates, amino acids

TAS [5]

Energy source

Chemoheterotroph

TAS [5]

Terminal electron receptor

Oxygen

TAS [5]

MIGS-6

Habitat

Sea water

TAS [5]

MIGS-6.3

Salinity

1–5% NaCl

TAS [2]

MIGS-22

Oxygen

Aerobic

TAS [5]

MIGS-15

Biotic relationship

Free living and attached to Posidonia oceanica.

TAS [2]

MIGS-14

Pathogenicity

None

TAS [5]

MIGS-4

Geographic location

Southeastern Spanish Mediterranean coast

TAS [4]

MIGS-5

Sample collection time

1995

IDA

MIGS-4.1

Latitude

not reported

MIGS-4.2

Longitude

not reported

MIGS-4.3

Depth

not reported

MIGS-4.4

Altitude

not reported
Genome sequencing information
Genome properties
The genome has no plasmids, and the 4,684,316 bp circular chromosome has a GC content of 44.13% (Table
3
and Figure
3
). Of the 4,326 predicted genes, 4,228 were protein-coding genes, and 98 RNAs; 105 pseudogenes were also identified. The majority of the protein-coding genes (73%) were assigned with a putative function while those remaining were annotated as hypothetical proteins. The distribution of genes into COGs functional categories is presented in Table
4
.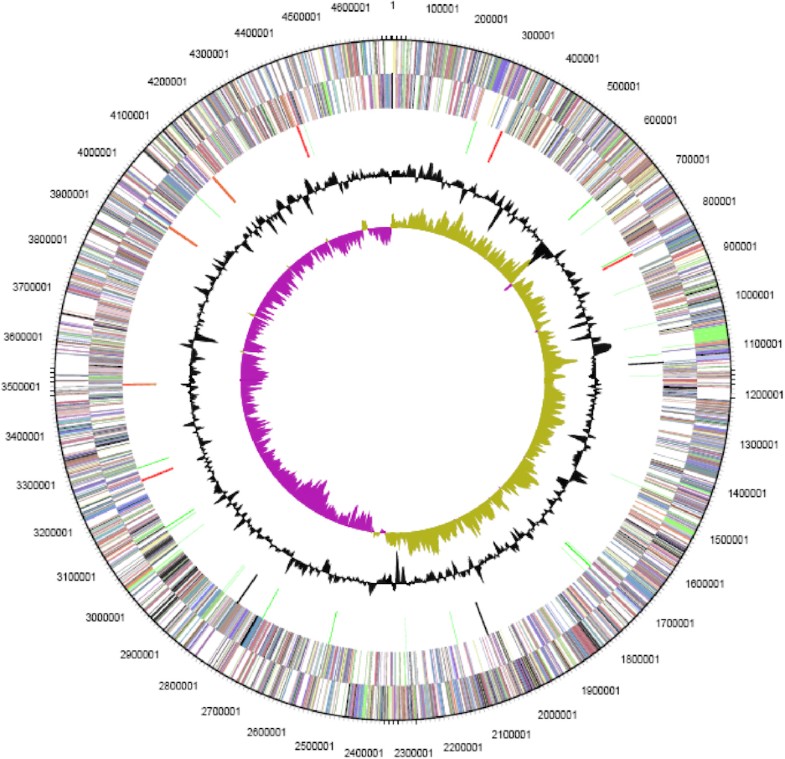 Table 3.
Genome statistics
| Attribute | Value | % of totala |
| --- | --- | --- |
| Genome size (bp) | 4,684,316 | 100 |
| DNA coding region (bp) | 4,084,912 | 87.20 |
| DNA G+C content (bp) | 2,067,071 | 44.13 |
| Number of replicons | 1 | |
| Extrachromosomal elements | 0 | |
| Total genes | 4,326 | 100.00 |
| Pseudogenesb | 105 | 2.43 |
| RNA genes | 98 | 2.27 |
| rRNA operons | 7 | |
| Protein-coding genes | >4,228 | 97.73 |
| Genes with function prediction | 3,158 | 73.00 |
| Genes in paralog clusters | 2,055 | 47.50 |
| Genes assigned to COGs | 3,408 | 78.78 |
| Genes with Pfam | 3,460 | 79.98 |
| Genes with signal peptides | 825 | 19.07 |
| Genes with transmembrane helices | 979 | 22.63 |
| CRISPR repeats | 4 | |
Table 4.
Number of genes associated with the 25 general COG functional categories.
| Code | Value | %age | Description |
| --- | --- | --- | --- |
| J | 185 | 4.8 | Translation, ribosomal structure and biogenesis |
| A | 1 | 0.03 | RNA processing and modification |
| K | 327 | 8.48 | Transcription |
| L | 181 | 4.69 | Replication, recombination and repair |
| B | 3 | 0.08 | Chromatin structure and dynamics |
| D | 39 | 1.01 | Cell cycle control, cell division and chromosome partitioning |
| Y | 0 | 0 | Nuclear structure |
| V | 28 | 0.73 | Defense mechanisms |
| T | 311 | 8.07 | Signal transduction mechanisms |
| M | 187 | 4.85 | Cell wall/membrane/envelope biogenesis |
| N | 129 | 3.35 | Cell motility |
| Z | 0 | 0.0 | Cytoskeleton |
| W | 0 | 0.0 | Extracellular structures |
| U | 97 | 2.52 | Intracellular trafficking, secretion and vesicular transport |
| O | 135 | 3.5 | Post-translational modification, protein turnover, chaperones |
| C | 192 | 4.98 | Energy production and conversion |
| G | 215 | 5.58 | Carbohydrate transport and metabolism |
| E | 401 | 10.4 | Amino acid transport and metabolism |
| F | 81 | 2.1 | Nucleotide transport and metabolism |
| H | 165 | 4.28 | Coenzyme transport and metabolism |
| I | 117 | 3.03 | Lipid transport and metabolism |
| P | 187 | 4.85 | Inorganic ion transport and metabolism |
| Q | 132 | 3.42 | Secondary metabolites biosynthesis, transport and catabolism |
| R | 425 | 11.02 | General function prediction only |
| S | 318 | 8.25 | Function unknown |
| - | 918 | 21.22 | Not in COGs |
Insights from genome sequence
The genome sequence of strain MMB-1T revealed some interesting features in relation to its known enzymatic activities of biotechnological interest. There was one copy of an operon responsible for melanin synthesis from L-tyrosine [6]. The genes forming part of this operon are Marme_3962, encoding a tyrosinase (PpoB1), and Marme_3961, which encodes a membrane protein (PpoB2) involved in copper delivery to the tyrosinase [44]. BLAST-based searches using the sequence of this M. mediterranea tyrosinase against the Proteobacteria deposited in IMG as of Sept 2011 retrieved only 18 hits at a cutoff value of <e−20. Among those hits, only one was from another Gammaproteobacteria, namely the product of the HCH_03392 gene from Hahella chejuensis KCTC2396, which was 45% identical at the polypeptide level to the M. mediterranea PpoB1 enzyme. Interestingly, genes whose products closely resemble those of Marme_3962 and Marme_3961 are also found adjacent to each other in Hahella chejuensis (genes HCH_03392 and HCH_03391) as well as in several distantly related bacteria, including Rhizobium vitis (Agrobacterium vitis) S4 (genes Avi_2427 and Avi_2428) and Citreicella sp. SE45 (genes CSE45_2624 and CSE45_2624), both of which are in the Alphaproteobacteria. This suggests that the operon encoding the tyrosinase and its chaperone have been transferred by horizontal genetic transfer mechanisms.
Regarding L-tyrosine metabolism, the annotation of the genome of M. mediterranea revealed genes encoding proteins involved in tyrosine degradation. Two of those genes (Marme_3331 and Marme_4181) encode putative transaminases, which could generate p-hydroxyphenylpyruvate. Interestingly, the catabolic route from this compound is incomplete, which could explain why M. mediterranea can use L-tyrosine as nitrogen source, but not as a sole carbon source [45].
In addition to the tyrosinase, another polyphenol oxidase of biotechnological interest, PpoA, is expressed by M. mediterranea. PpoA is a multicopper oxidase with laccase activity [7] and is encoded by the gene Marme_0056. A BLAST-based search using the sequence of this protein, with a cutoff value of e-20, revealed several homologues in different proteobacteria, including 17 hits (out of 678 genomes) within the Gammaproteobacteria. Interestingly, the three strains mentioned above (H. chejuensis KCTC2396, R. vitis S4 and Citreicella sp. SE45) in which the tyrosinase operon was conserved, also contain genes encoding proteins similar to PpoA. However, genome analysis does not offer indications of possible co-transfer of both genes since ppoA-like genes are not close to ppoB-like genes in any of the genomes analyzed.
The genome of M. mediterranea also contains a locus, Marme_2975, encoding a protein with 31.9% identity to the protein RL5, described as possessing laccase activity, which was detected from a metagenomic library [46]. In the case of M. mediterranea, a mutation in the gene Marme_0056 abolishes laccase activity in all the conditions studied [47], so the possible laccase activity of the product of Marme_2975 remains to be determined. In this regard, we note that homologues of Marme_2975 also occur in the other Marinomonas strains that have been sequenced: M. posidonica IVIA-Po-181T (Mar181_0693), Marinomonas sp. MED 121 (MED121_05683) and Marinomonas sp. MWYL1 (Mmwyl1_3610), which do not show laccase activity (Sanchez-Amat, unpublished observations).
An enzyme (LodA) with L-lysine-epsilon-oxidase activity (E.C:1.4.3.20) was described for the first time in M. mediterranea (14). The gene (Marme_2662) encoding this enzyme forms part of an operon with lodB (Marme_2661), which encodes a protein of unknown function but is required for expression of LodA [48]. LodA is an unusual L-amino acid oxidase (LAO), since it is a quinoprotein and does not contain FAD as cofactor, unlike most other LAOs. When the sequence of LodA was used as a query against the genomes of Proteobacteria in IMG, 22 hits to gene products in different classes of bacteria were detected with a cutoff value of <e-20. Interestingly, it was clear that M. mediterranea itself had two additional genes (respectively Marme_2396 and Marme_1655) that encoded polypeptides that resembled LodA, being respectively 23.3% and 24.4% identical to it. The products of three genes in the NCBI database of bacterial genomes (Mmwyl1_3721 of Marinomonas sp. MWYL1, PTD2_20217 (alpP) of Pseudoalteromonas tunicata D2 and Nhal_1019 of "Nitrosococcus halophilus" Nc4) were extremely similar in sequence (E value of 0) to LodA of M. mediterranea, strongly indicating that these, too, encode enzymes with L-lysine oxidase activity. In fact, this has been experimentally demonstrated for one of these, namely AlpP of P. tunicata [49]. A preliminary screening of all those genes similar to lodA in M. mediterranea and other bacteria revealed that they also form part of an operon containing a gene similar to lodB.
In relation to L-lysine metabolism, it is also of interest that up to 14 genes encode proteins annotated as lysine exporter proteins (LYSE/YGGA). This property could be related to the extracellular activity of the L-lysine oxidase that oxidizes L-lysine, generating hydrogen peroxide, which participates in cell death during biofilm development [49]. Genome analysis of strain MMB-1 indicates that it contains all the enzymes required for L-lysine biosynthesis. Although M. mediterranea cannot use L-lysine as sole carbon and energy source, it can use this amino acid as nitrogen source even in mutants lacking LodA activity [45,48]. Therefore, there must be some other enzymatic activities involved in nitrogen assimilation from L-lysine, but genome analysis has not revealed their identity.
Another strain of this genus, namely Marinomonas sp. MWYL1, was shown to grow at the expense of DMSP, an abundant intracellular compatible solute that is made by many marine phytoplankton. One of the products was DMS, an environmentally important gas that can affect climate. The enzyme that generated the DMS from DMSP was encoded by the gene dddD (Mmwyl1_4041) [25], and a very close homologue (the protein products are 80% identical) was found in the genome of M. mediterranea MMB-1 (Marme_2354). In addition, the organization of other genes involved in the import of DMSP and some of the downstream catabolic steps were also conserved in their locations and their sequences in the two Marinomonas strains.
Declarations
Acknowledgements
The work conducted by the U.S. Department of Energy Joint Genome Institute is supported by the Office of Science of the U.S. Department of Energy under Contract No. DE-AC02-05CH11231. Work on Marinomonas mediterranea was supported by several grants from the Spanish Ministerio de Ciencia e Innovación (Current project BIO2010-15226) and the Fundación Séneca (CARM, Spain) (Current project 11867/PI/09).
Authors' Affiliations
(1)
Department of Genetics and Microbiology, University of Murcia, Murcia, Spain
(2)
DOE Joint Genome Institute, Walnut Creek, USA
(3)
Bioscience Division, Los Alamos National Laboratory, Los Alamos, USA
(4)
Oak Ridge National Laboratory, Oak Ridge, USA
(5)
School of Biological Sciences, University of East Anglia, Norwich, UK